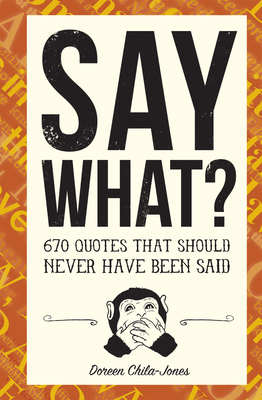 Say What? (Hardcover)
670 Quotes That Should Never Have Been Said
punchline, 9781946064042, 176pp.
Publication Date: October 3, 2017
* Individual store prices may vary.
Description
Say What?
is a compilation of 670 of the most memorable things that should never have been said. You'll find, of course, quotes from dictators, drug lords, and murderers, but much more shocking are the entries by Nobel Prize winners, religious leaders, and beloved icons. Doreen Chila-Jones has collected hundreds of extraordinary quotes, and everyone is fair game—even Mother Teresa: "I think it is very beautiful for the poor to accept their lot, to share it with the passion of the Christ. I think the world is being much helped by the suffering of the poor people." Say what?
About the Author
Doreen Chila-Jones is a writer whose comedic stylings can be found in punchline's NY Dogs (by Violet Lemay), Hot Guys ABZ, and Say What? 670 Quotes That Should Never Have Been Said. While Doreen specializes in the humor genre, her offerings for children with special needs are gaining attention. Doreen's musings can also be found in Matters Magazine (www.mattersmagazine.com) and her daily blog, mamasucksblog.wordpress.com. She has been married to the same human for 20 years, and together they've adopted three children. Her life is total chaos, as she likes it.