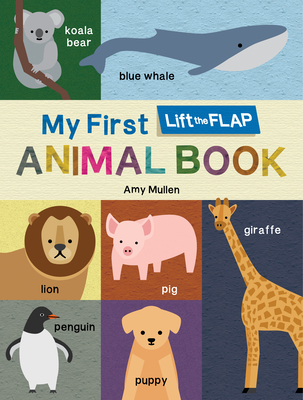 My First Lift-the-Flap Animal Book (Board book)
duopress, 9781946064950, 20pp.
Publication Date: April 3, 2018
* Individual store prices may vary.
Description
Little ones will love encountering the amazing animals inside this board book, and with lots of flaps to lift, there's lots of fun to have. Animals are divided into categories such as "Big" (giraffe, blue whale), "Fast" (peregrine falcon, red fox), "In the Dark" (owl, red panda), and, of course, "In the House" (dog, cat, hamster). The playful text on the flaps gives readers simple clues that encourage discovery: Lift the flap that reads "I am super fast" and find a cheetah, while peeking under "My home is a fishbowl" reveals the cutest goldfish. The names of all the animals featured are included for easy reading and learning, and the tough board pages with rounded corners guarantee many hours of safe fun.
About the Author
duopress labs is the creative team, led by Mauricio Vela´zquez de Leo´n, responsible for writing and developing dozens of books and games. Recent titles include The Belly Sticker Book; 100 Pablo Picassos; My Fridge; Hello, Ocean Friends; My New York Puzzle; My San Francisco Puzzle; Match it! San Francisco; and My First Lift-the-Flap Animal Book. Mauricio has written for Lonely Planet, Chouette, PowerKids Press, and the magazines Gourmet and Saveur. He resides wherever he can find a good Wi-Fi connection and strong coffee, mostly in the eastern United States.
Amy Mullen is a self-taught digital illustrator living in Arlington, Virginia. In 2009, Amy created Mint Parcel, a line of affordable art prints for kids featuring animals, monsters, pop culture figures, and famous literary characters. She has written and illustrated two picture books, Nursery Rhyme Time and Annabel on the Go, and many board books, including Colors of The Pacific Northwest, Colors of New England, and My First Lift-the-Flap Animal Book.