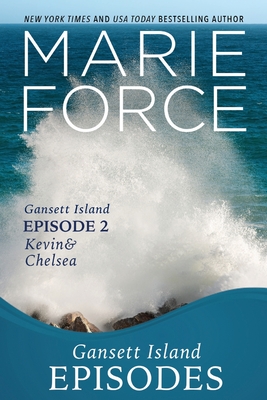 Gansett Island Episode 2
Kevin & Chelsea
Paperback

* Individual store prices may vary.
Other Editions of This Title:
MP3 CD (4/6/2021)
Compact Disc (4/6/2021)
Description
Their age difference doesn't matter...until one of them wants to put down roots.


A year after his 31-year marriage imploded, Dr. Kevin McCarthy is enjoying life on Gansett Island. He's opened a small practice, goes fishing with his older brothers any time he wants and has his sons, nieces and nephews close by. Best of all is his all-consuming relationship with sexy bartender, Chelsea Rose. What started as a one-night stand a year ago, has turned into something much more significant for Kevin and for Chelsea. The sixteen-year age difference between them has never mattered, until they realize they may have differing plans for the future. Will they be able to reconcile their divergent paths or will their hearts be broken when they go their separate ways? Find out in Gansett Island Episode 2: Kevin & Chelsea where you'll also hear about Big Mac's latest business venture and have a visit with the Gansett Island characters you've come to love

About the Gansett Island Episodes...
From Marie: My fictional island has become such a huge part of my life--and yours--over these last six years, and I've created so many characters who speak to me between books and during the writing of new ones. I can't possibly give them all a new story in every book, but I still have so much to say about them. With that in mind, I'll be launching a new "Gansett Island Episodes" series in 2017, featuring shorter stories about past characters who readers love and want more of. Mixed in with these episodes will be at least one full-length book a year. So we'll have plenty more from our favorite island, with new stories for past characters as well as all-new stories, too. I'm looking forward to this new adventure and hope you'll take the ferry to Gansett for the new episodes

The Gansett Island Series
Gansett Island Boxed Set, Books 1-3
Gansett Island Boxed Set, Books 4-6
Gansett Island Boxed Set, Books 7-9
Book 1: Maid for Love
Book 2: Fool for Love
Book 3: Ready for Love
Book 4: Falling for Love
Book 5: Hoping for Love
Book 6: Season for Love
Book 7: Longing for Love
Book 8: Waiting for Love
Book 9: Time for Love
Book 10: Meant for Love
Book 10.5: Chance for Love, A Gansett Island Novella
Book 11: Gansett After Dark
Book 12: Kisses After Dark
Book 13: Love After Dark
Book 14: Celebration After Dark
Book 15: Desire After Dark
Book 16: Light After Dark
Book 17: Episode 1: Victoria & Shannon
Book 18: Episode 2: Kevin & Chelsea
Book 19: Mine After Dark (Riley & Nikki)
Book 20: Yours After Dark (Finn & Chloe)
Book 21: Trouble After Dark (Deacon & Julia)
HTJB, Inc., 9781946136275, 152pp.
Publication Date: October 24, 2017