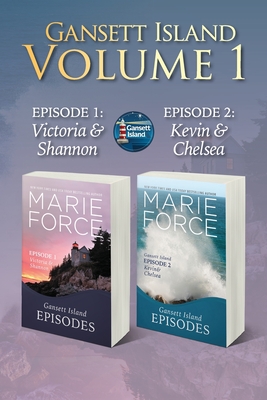 Gansett Island Volume 1
Episodes 1 & 2
Paperback

* Individual store prices may vary.
Other Editions of This Title:
Hardcover (5/18/2018)
Description
Episode 1: Victoria & ShannonGansett
Island midwife Victoria Stevens loves taking care of people, in her job and in her personal life, especially when it comes to her boyfriend of one year, sexy Irishman Shannon O'Grady. Fueled by combustible chemistry, her relationship with Shannon has been H-O-T from the start. But she's begun to wonder whether theirs is destined to be a short-term fling or possibly the love of a lifetime. When she goes looking for answers about his past, she learns something she was better off not knowing and isn't sure what to do with her newfound information. What will happen when Shannon finds out she's been asking questions about him, and will they be able to overcome the obstacles standing between them and happily ever after? Find out in this first Gansett Island Episode, which also includes the arrival of some long-awaited island babies
Episode 2: Kevin & Chelsea
A year after his 31-year marriage imploded, Dr. Kevin McCarthy is enjoying life on Gansett Island. He's opened a small practice, goes fishing with his older brothers any time he wants and has his sons, nieces and nephews close by. Best of all is his all-consuming relationship with sexy bartender, Chelsea Rose. What started as a one-night stand a year ago, has turned into something much more significant for Kevin and for Chelsea. The sixteen-year age difference between them has never mattered, until they realize they may have differing plans for the future. Will they be able to reconcile their divergent paths or will their hearts be broken when they go their separate ways? Find out in Gansett Island Episode 2: Kevin & Chelsea where you'll also hear about Big Mac's latest business venture and have a visit with the Gansett Island characters you've come to love About the Gansett Island Episodes...
The Gansett Island Series
Gansett Island Boxed Set, Books 1-3
Gansett Island Boxed Set, Books 4-6
Gansett Island Boxed Set, Books 7-9
Book 1: Maid for Love
Book 2: Fool for Love
Book 3: Ready for Love
Book 4: Falling for Love
Book 5: Hoping for Love
Book 6: Season for Love
Book 7: Longing for Love
Book 8: Waiting for Love
Book 9: Time for Love
Book 10: Meant for Love
Book 10.5: Chance for Love, A Gansett Island Novella
Book 11: Gansett After Dark
Book 12: Kisses After Dark
Book 13: Love After Dark
Book 14: Celebration After Dark
Book 15: Desire After Dark
Book 16: Light After Dark
Book 17: Episode 1: Victoria & Shannon
Book 18: Episode 2: Kevin & Chelsea
Book 19: Mine After Dark (Riley & Nikki)
Book 20: Yours After Dark (Finn & Chloe)
Book 21: Trouble After Dark (Deacon & Julia)
HTJB, Inc., 9781946136350, 258pp.
Publication Date: October 31, 2017