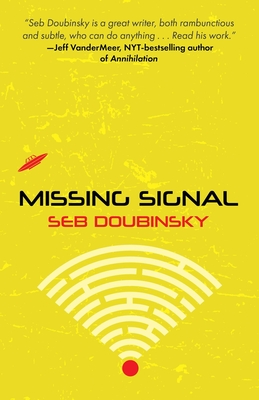 Missing Signal
Paperback

* Individual store prices may vary.
Description
From Seb Doubinsky, author of The Song of Synth, The Babylonian Trilogy, White City, Absinth, Omega Gray and Suan Ming, comes his highly anticipated next installment in the City-States Cycle.
Missing Signal—a riddle wrapped in a mystery inside a government conspiracy? Agent Terrence Kovacs has worked for the New Petersburg Counter-Intel Department propagating fake UFO stories for so long that even he has a hard time separating fact from fiction. Especially when he's approached by a beautiful woman named Vita, who claims she's been sent from another planet to liberate Earth.
Praise For Missing Signal…
"Beneath the entertaining wrapper of science fiction, Missing Signal is a masterfully written work, both provocative and rewarding." — Foreword Reviews
"Crisp chapters cartwheel you in an incredible odyssey that gets wilder and weirder as it possesses you . . . Something about the novel abolishes distraction. Once you open the book, you are committed. No hard work, just a heart-thud moment, electricity, and you're hooked. In its tiny chapters pulsing with voltage, the narrative leaves nothing short. The reading is like a golden egg hunt, literary gifts tucked away in findable nests." — Eugen Bacon, Breach Magazine
"Seb Doubinsky's always been a critique of modern politics and the tyrannical fallacies of consumerism. Missing Signal is another addition to that nuanced, but powerful legacy as it's a novel about being told what to do and who to believe, which doesn't lead to any satisfying answers if you don't proactively choose your own path through a maze of make believes and misinformation." — Benoit Lelievre, Dead End Follies
"I'm delighted to have discovered an exciting new voice in Seb Doubinsky's unusual novella. This is not a traditional sci-fi story but is one which offers a disturbing glimpse into a dystopian city-state future which reflects, albeit in an exaggerated way, so much of all that is disturbing in our 21st century world." — Linda Hepworth, Nudge-Book Magazine
"The tense, sparse prose of this novella—which explicitly names its inspirations in the aesthetics of Michelangelo Antonioni's 'beautiful emptiness,' William S. Burroughs's theories, and the porn and B-movies of the 1960s and '70s, as well as the tropes of alien encounters in early SF—matches its strong themes of loneliness, paranoia, and the search for identity in a world of deception." — Publishers Weekly 
"Thought provoking and incredibly entertaining, Seb Doubinsky's latest novel is a wonderfully quick read that is the perfect pick me up. Full of quirks, questions and complex puzzles ranging in length from a single sentence to a handful of pages, Missing Signal is the perfect getaway that will appeal to seasoned science fiction readers and newcomers alike." — Melissa Ratcliff, Paperback Paris
"This book was a wonderful science fiction read, and I would recommend it to anyone looking for a new mysterious adult sci-fi novel." — Bri's Book Nook
"Each chapter is both precise and thought provoking. It's art in novel form, philosophy that's been entwined with promises of aliens and mind altering drugs." — Books to Combat the Rain
Meerkat Press, LLC, 9781946154118, 206pp.
Publication Date: August 28, 2018
About the Author
Seb Doubinsky is a bilingual writer born in Paris in 1963. His novels, all set in a dystopian universe revolving around competing cities-states, have been published in the UK and in the USA. He currently lives with his family in Aarhus, Denmark, where he teaches at the university.