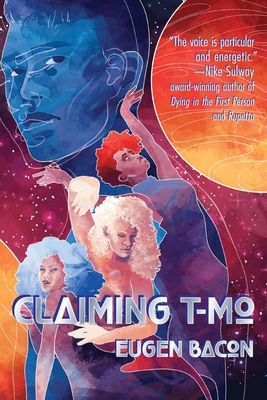 Claiming T-Mo
Paperback

* Individual store prices may vary.
Description
In this lush interplanetary tale, Novic is an immortal Sayneth priest who flouts the conventions of a matriarchal society by choosing a name for his child. This act initiates chaos that splits the boy in two, unleashing a Jekyll-and-Hyde child upon the universe. Named T-Mo by his mother and Odysseus by his father, the story spans the boy's lifetime — from his early years with his mother Silhouette on planet Grovea to his travels to Earth where he meets and marries Salem, and together they bear a hybrid named Myra. The story unfolds through the eyes of these three distinctive women: Silhouette, Salem and Myra. As they confront their fears and navigate the treacherous paths to love and accept T-Mo/Odysseus and themselves, the darkness in Odysseus urges them to unbearable choices that threaten their very existence.
Praise For Claiming T-Mo…
"Prose with a rhythm that sets it apart. Come for the music, stay for the story." —Michael Pryor, author of Gap Year in Ghost Town and the "Laws of Magic" series

"Claiming T-Mo is a whimsical blend of fantasy and science fiction, an engaging story accented by Eugen's unique style." —Milton Davis,
author of "The Gunman" Series, Meji books 1 & 2, and Amber and the Hidden City

"As playful as it is thought-provoking, this is a work of dizzying originality and profound humanity." —Prof. Oz Hardwick, award-winning poet, author of Learning to Have Lost and The Lithium Codex

"Claiming T-Mo is a story of generations of women striving for fulfillment, but caught in webs of passion, magic and stardust. Eugen Bacon embraces the strange and estranged in this unanticipated contemporary trickster myth." —Emmet O'Cuana, author of fantastic comic Faraway

"Magical, violent, enthralling, it is a book that shines with its own specific aura, a somber and beautiful unique object, designed by a truly splendid writer. A must." —Seb Doubinsky, author of the "City-States Cycle" series

"Nothing is off limits in Claiming T-Mo with a literary eloquence and decadence, which transports the mundane into the magical, suspending time and place into a kaleidoscopic universe." —Mistress of Culture Vultures, https://www.weekendnotes.com/

"Bacon explores a four-generation alien family saga in this gleeful, wacky debut." —Publishers Weekly

(5 stars) "[Bacon's] eloquent, elegant and lyrical prose gripped me from the very first sentence of this immensely passionate, moving and thought-provoking story ... [an] amazing, magical book." —Linda Hepworth, NB Magazine - UK

"Lush, hypnotic and absorbing. Bacon speaks in a language all her own, transporting us to an original, surreal, very real invented world." —Kaaron Warren, award-winning author of Tide of Stone and The Grief Hole

"Claiming T-Mo is more than a novel—it is a life force, a beautiful and heartfelt sentience that speaks to you in equal parts charm, thrill, and wonder." —Eric J. Guignard, award-winning author and editor, including That Which Grows Wild and A World of Horror

"Bacon's sentences are endlessly full of these nimble, assured, madly inventive leaps. Her work is striking; I've never read anything like it." —Keith Rosson, award-winning author of The Mercy of the Tide and Smoke City
Meerkat Press, LLC, 9781946154132, 266pp.
Publication Date: August 13, 2019
About the Author
Eugen Bacon is a computer scientist mentally re-engineered into creative writing. She has published over 100 short stories and articles, together with anthologies. Her stories have won, been shortlisted and commended in national and international awards, including the Copyright Agency Prize and L. Ron Hubbard Writers of the Future Contest. Her creative work has appeared in literary and speculative fiction publications worldwide. Her non-fiction book on writing speculative fiction will be published in 2019 by Palgrave MacMillan.