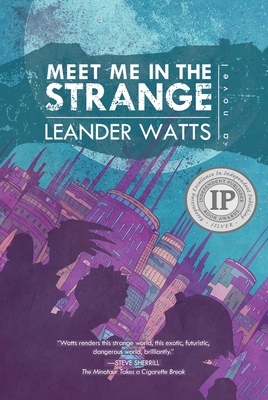 Meet Me in the Strange (Hardcover)
Meerkat Press, LLC, 9781946154156, 260pp.
Publication Date: March 27, 2018
* Individual store prices may vary.
Description
"In an intoxicating swirl of futuristic imagery and existential inner reflection, Meet Me in the Strange treats music and spirituality as one and the same....a wondrous, alien tale, not quite like any other story out there." -Foreword Reviews (starred review)
"Watts successfully captures not only the gravity of a teenage subculture, but also the more mercurial feeling of an axial generation on the cusp of something completely new....A bighearted and imaginative tale about a glam god's fans." -Kirkus Reviews
From the author of Beautiful City of the Dead and Stonecutter comes a dreamy, atmospheric coming of age story that will appeal to readers of all ages.
Meet Me in the Strange is an intoxicating adventure set in a glittery, retro-futuristic world of glam rock, spectral aliens, and gender-bendy teens. Davi is mesmerized by a girl at a concert, who appears to lose herself in the power of the otherworldy music of Django Conn. Later, through a chance meeting, Davi becomes friends with the girl, Anna Z. She is like no one Davi has ever met: she loves to talk, talk, talk and has grandiose theories of the next evolution of humans and a strange phenomenon she calls the "Alien Drift."
But danger lurks around every corner, because Anna Z is on the run, and her cruel and controlling older brother is determined to find her, at any cost. Davi faces a daunting decision, go on living a safe existence at the magical Angelus Hotel, which has been in the family for generations, or help Anna Z escape her troubled past. When the two take off to follow the concert tour of their glam-rock idol, Django Conn, Davi and Anna Z will face the biggest threat of their young lives.
About the Author
An avid musician, Leander Watts has played and sung for decades in a wide variety of bands. His interests range from garage rock to skronky jazz, from baroque organ to Appalachian gospel. The first rock concert he attended was David Bowie on the Diamond Dogs tour in 1974. He teaches writing and literature at the State University of New York at Geneseo (his alma mater). Leander Watts is the author of Stonecutter, Wild Ride to Heaven, Ten Thousand Charms, and Beautiful City of the Dead.
Praise For Meet Me in the Strange…
Winner: IPPY AwardSilver Medalist —Young Adult