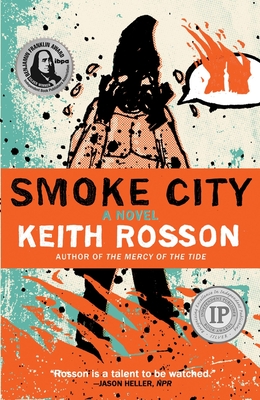 Smoke City
Hardcover

* Individual store prices may vary.
Other Editions of This Title:
Paperback (3/26/2019)
Description
2019 IPPY Award Silver Medalist
2019 IBPA Ben Franklin Award Silver Medalist
Powell's Books Best Fiction of 2018
"Rosson is a talent to be watched." - Jason Heller, NPR
Marvin Deitz has some serious problems. His mob-connected landlord is strong-arming him out of his storefront. His therapist has concerns about his stability. He's compelled to volunteer at the local Children's Hospital even though it breaks his heart every week.
Oh, and he's also the guilt-ridden reincarnation of Geoffroy Thérage, the French executioner who lit Joan of Arc's pyre in 1431. He's just seen a woman on a Los Angeles talk show claiming to be Joan, and absolution seems closer than it's ever been . . . but how will he find her?
When Marvin heads to Los Angeles to locate the woman who may or may not be Joan, he's picked up hitchhiking by Mike Vale, a self-destructive alcoholic painter traveling to his ex-wife's funeral. As they move through a California landscape populated with "smokes" (ghostly apparitions that've inexplicably begun appearing throughout the southwestern US), each seeks absolution in his own way.
In Smoke City, Keith Rosson continues to blur genre and literary fiction in a way that is in turns surprising, heartfelt, brutal, relentlessly inventive, and entirely his own.
Praise For Smoke City…
"Smoke City was a super cool read that worked for me in a fashion similar to JG Ballard (whose work I greatly enjoy).  It's a blend of realism and fantasy that flows off the page quite nicely." — JD Dehart Reading & Lit Resources

"This book is mad. And I mean that in the best way. I don't think I've read anything this imaginative or unpredictable in a long time." — Infinite Typewriters

"The way in which the different stories come together to form a cohesive and beautifully absurd plot keeps the reader turning page after page. This was by no means a mystery but I found myself in a state of delightful suspense during many parts of the book." — TRL Reviews

"This was one of those books that called to me as soon as I read the blurb. And fortunately, this book was exactly what I was hoping it would be—strange, quirky, and offbeat, but also touching. The characters had depth and unique voices. The writing was rich." — Metaphors & Moonlight

"Rosson's talent is staggering, his craft is meticulous, and his story is one of the quirkiest, but most heartfelt I have ever read." — Dianah Hughley, Bookseller, Powell's

"A surreal road novel about misfits on a journey to Southern California . . . An offbeat, strangely satisfying adventure through a land of (literal) ghosts." — Kirkus Reviews

"[A] story about hope, about love and about the essential decency of people . . . hugely satisfying . . . the literary quality of Keith Rosson's writing is truly remarkable and, at times, quite breathtakingly beautiful." — Linda Hepworth, Nudge-Book Magazine

"A brilliantly haunting tale of forgiveness and redemption even in the face of abject failure . . . Depravity and race meet in a powerful, profound, and lavish banquet for the soul." — Foreword Reviews

"Rosson creates a fantasy where a very real world of human relationships filled with common concerns such as forgiveness or guilt mixes with fantastic elements in a seemingly matter-of-fact way, similar to the slipstream style of writers such as Kelly Link, Ted Chiang, or Jonathan Lethem. Smoke City is an involving and engrossing blend of fantasy and the everyday, and is highly recommended to anyone looking for the sort of book that allow a reader to get lost within its pages." — Indiepicks Magazine

"Keith Rosson has a remarkable talent. He's created an enjoyable story, an offbeat, occasionally absurd but haunting tale of life, death, heartbreak, and ultimately, redemption—if not in the way expected." — NY Journal of Books
Meerkat Press, LLC, 9781946154163, 330pp.
Publication Date: January 23, 2018
About the Author
Keith Rosson lives in Portland, Oregon, and is the author of the novels The Mercy of the Tide and Smoke City. His short fiction has appeared in Cream City Review, PANK, December, the Nervous Breakdown, and more. A fierce advocate of public libraries and non-ironic adulation of the cassette tape, he can be found at keithrosson.com.
or
Not Currently Available for Direct Purchase