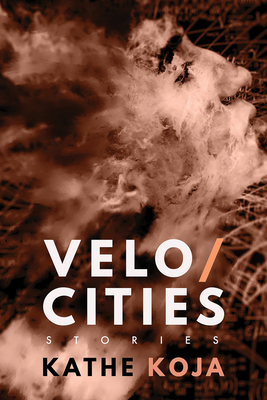 Velocities (Paperback)
Stories
Meerkat Press, LLC, 9781946154231, 200pp.
Publication Date: April 21, 2020
Other Editions of This Title:
Paperback (4/1/2020)
* Individual store prices may vary.
Description
From the award-winning author of The Cipher and Buddha Boy, comes Velocities, Kathe Koja's second electrifying collection of short fiction. Thirteen stories, two never before published, all flying at the speed of strange.
About the Author
Kathe Koja writes novels and short fiction, and creates and produces immersive fiction performances, both solo and with a rotating ensemble of artists. Her work crosses and combines genres, and her books have won awards, been translated, and optioned for film and performance. She is based in Detroit and thinks globally.
Praise For Velocities: Stories…
"An impressive collection of stories unafraid to explore bleak topics like death and despondency." —Kirkus Reviews
"Reading Velocities is a literary dégustation of dark fiction with speculative elements, rich narrative full of text that's cunning, loaded with sentiment. You want to go back to a story, and you do, to recapture the moment, and you find it, still there, waiting, just for you. You can't speak to this astounding collection without lingering on its author. Read Koja like you're nibbling truffles, each bite a road to metamorphosis." —Eugen Bacon, Aurealis Magazine
"A modern genius of weird and dark fiction, Kathe Koja once again proves with Velocities that she's adept at plunging the reader into strange and unexpected places. One of my favorite collections of the year." —Jeff VanderMeer, NYT-bestselling author of Dead Astronauts, Borne and the Southern Reach trilogy
"Velocities is prime Kathe Koja, with all that that entails: supercharged, dense as hell, oblique, glorious. Every story is a lesson in how to write faster, more intensely, from angles other people never seem to think of: industrial poetry, word mosaics like insect eyes, multifoliate as the insides of flowers, every image a scattered, burrowing seed, spreading narrative like a disease. I've loved her work since long before I ever aspired to produce anything like it—in fact, I'm still not sure anyone else is capable of doing what she does, of coming close, let alone hitting the mark. But damn, it's equally so much fun to admire the result as it is to even vaguely try."  —Gemma Files, award-winning author of Spectral Evidence
"Velocities is immersive, hypnotic, yet clear-eyed and accessible. These are dangerous, artful tales of mounting tension, impossible to put down. Koja's fiction has never seemed more alive or daring." —Douglas Clegg, award-winning author of Neverland and The Faces
"Short sharp speedballs of strange. Incantatory, funny, human - ranging from urban dread, to country nightmares, to bite-sized fables so baroque and twisted, you can taste the corruption on your tongue and in your dreams." —J.S. Breukelaar, author of Collision: Stories, Aletheia, and American Monster
"In Velocities, Kathe Koja, delivers thirteen short stories that will have you turning the pages at high-speed." —Curiosity Bought the Book
"A showcase not of the genre but of Koja's gobsmacking talent as a stylist. For fans of The Cipher (and if I were pressed, I might call it my favorite novel, ever), this is a welcome return for Koja." —Signal Horizon

"The consistent thread which links the stories is the author's eloquent and elegant prose. I loved the myriad ways in which she used language to create a variably-paced rhythmic cadence to her narrative, something which made reading feel like a seamless pleasure rather than something I needed to work hard at … each of them felt idiosyncratically imaginative, unsettling, thought-provoking and memorable." —Linda Hepworth, NB Magazine

"In reading this collection, one thing becomes immediately clear: Koja is a master prose stylist. Like a fine restaurant, she provides an experience that is unlike any this reviewer has encountered. There is an urgent, restless, sometimes chaotic, energy to the writing that permeates every story, every sentence. Koja controls the experience with every word." —Big Indie Books

"It still amazes me on how much exquisiteness is packed into this one collection. The tales impact you heavily with Koja's shockful, intense details."  —Michelle Meng's Book Blog

"An awesome collection of stories, some of them are like a steel trap, drawing you in until you realise that you've been reading something quite different from what you thought you were." —Scifiville

"These stories are filled to the brim with humanity, love, loss and heartache. They will stay with you, because they are staying with me … Velocities is simply a flawless collection, Just perfect. So, do yourself a favour and pick up a copy of one of the most interesting releases this year" —Books I Like Book Blog 

"Another grouping of classic, poetic horror fiction that could only been born in the darkly beautiful mind of one of our greatest creators, Kathe Koja." —InkHeist

"Velocities by Kathe Koja is a uniquely diverse and addicting collection of stories. Each spoke to me in a different way, yet had the commonality of beautiful writing ... Highly recommended." —Jessica Belmont's Blog
"Koja's stories are at their most superb where they study the strength in bodies perceived as delicate or fragile ... Koja explores the misunderstood and the dark in twisting and often experimental prose." —Booklist