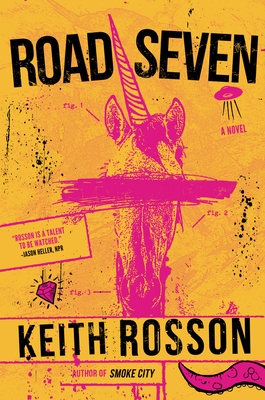 Road Seven
Paperback

* Individual store prices may vary.
Other Editions of This Title:
Digital Audiobook (7/13/2020)
Description
Mark Sandoval—resolutely arrogant, covered head to foot in precise geometric scarring, and still marginally famous after Hollywood made an Oscar-winner based off his memoir years before—has been strongly advised by his lawyer to leave the country following a drunken and potentially fatal hit and run. When a woman sends Sandoval grainy footage of what appears to be a unicorn, he quickly hires an assistant and the two head off to the woman's farm in Hvíldarland, a tiny, remote island off the coast of Iceland. When they arrive on the island and discover that both a military base and the surrounding álagablettur, the nearby woods, are teeming with strangeness and secrets, they begin to realize that a supposed unicorn sighting is the least of their worries.
Praise For Road Seven…
"Quirky and creepy by turn … the blend of genres, from science fiction to cosmic horror, is masterfully executed. Readers will be riveted by this clever, unsettling adventure." —Publishers Weekly

"A wonderful book—funny, strange, perpetually surprising, aglow with insight and fierce compassion. Keith Rosson is one of my favorite writers; I'd follow him through the haunted woods any day." —Ben Loory, author of Tales of Falling and Flying

"When was the last time I had this much fun reading a novel? Keith Rosson is a mixologist of fiction, and Road Seven, with its cryptozoology, Icelandic mysticism, science fiction-ey conspiracy-laden horror, is his craft cocktail. With the forward momentum of a T.C. Boyle novel but a vision wholly his own, Rosson emerges as one of fiction's most exciting voices with a novel unlike any I've read." —John McNally, author of The Fear of Everything and The Book of Ralph

"With his unique, preternatural skills, Keith Rosson is back with Road Seven. Deeply dimensional characters struggle at their wits' end with the emotional truths of their utterly flawed, conflicted, hapless selves. Dialogue vibrates with subtext in vividly imagined scenes described in always surprising, always apt words. He achieves the goal of so many writers: a style all his own that signifies in all the ways—from the subtlest touches to quick jabs, gut punches, and spin kicks that will floor you. Give yourself time to catch your breath, recover, and reread."  —Roy Freirich, author of Deprivation and Winged Creatures

"As in his Smoke City (2017), Rosson offers crisp characterization and surprising twists. Here he maps a magical journey through the wilds of rural Iceland and into a kaleidoscopic terrain filled with secretly active military bases, and muddied body parts that sully what began as an innocent expedition into the supernatural. … Rosson's clever, swiftly paced story has more than enough to keep readers turning the pages and wanting to believe. …An engrossing and creative story of the wonders of the unknown with an Icelandic accent." —Kirkus Reviews

5 stars: "This book is drool worthy … The story has so many moving parts, as you read it's hard to see how they will ever fit together, or who might be hallucinating, but they magically piece together in a terrifying yet mystifying way. By the end you're left wondering if you're living your best life, if you've made the right choices, and what you can do to start doing so. If you love books that are deep yet fantastical, light but heavy- you're going to want to pick up Road Seven." —Aconite Cafe

"Inventive and empathetic, the novel is populated by broken people with deep flaws whose relationships are troubled … Cross-genre elements— including personalized, existential horror; noir threats; and the unsettling unknown—result in a disconcerting adventure whose dark humor prevails. Darkly comic and brimming with flawed characters, Road Seven examines the price of knowledge as the unknown becomes horrific." —Foreword Reviews
Meerkat Press, LLC, 9781946154293, 300pp.
Publication Date: July 14, 2020
About the Author
Keith Rosson lives in Portland, Oregon and is the author of the novels The Mercy of the Tide and Smoke City. His short fiction has appeared in Cream City Review, PANK, December, the Nervous Breakdown, and more. A fierce advocate of public libraries and non-ironic adulation of the cassette tape, he can be found at keithrosson.com.