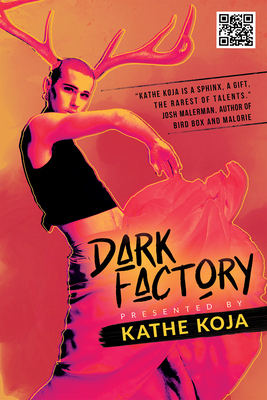 Dark Factory
Paperback

* Individual store prices may vary.
Description
Welcome to Dark Factory! You may experience strobe effects, Y reality, DJ beats, love, sex, betrayal, triple shot espresso, broken bones, broken dreams, ecstasy, self-knowledge, and the void. Dark Factory is a dance club: three floors of DJs, drinks, and customizable reality, everything you see and hear and feel. Ari Regon is the club's wild card floor manager, Max Caspar is a stubborn DIY artist, both chasing a vision of true reality. And rogue journalist Marfa Carpenter is there to write it all down. Then a rooftop rave sets in motion a fathomless energy that may drive Ari and Max to the edge of the ultimate experience. Dark Factory is Kathe Koja's wholly original new novel from Meerkat Press that combines her award-winning writing and her skill directing immersive events to create a story that unfolds on the page, online, and in the reader's creative mind. www.Darkfactory.club
Praise For Dark Factory…
"This is a daring work of multisensory and multimedia immersion, an exemplar of Koja's career-long commitment to dissolving boundaries—between genres and delivery systems, between body and mind, between story and reader, between virtual and real. This is a propulsive, wickedly funny literary party; enter the Factory, lose yourself, and dance."  —Mike Thorn, author of Shelter for the Damned, Darkest Hours, and Peel Back and See

"With Dark Factory Kathe Koja spins a nighttime world fully realized and revelatory, all while reaching new linguistic highs. And how many books have you read that made you want to dance?"  —Tom Cardamone, author of The Lurid Sea, Green Thumb, and Night Sweats: Tales of Homosexual Wonder and Woe

"Koja has redefined the possibilities and limits of literature with Dark Factory--a thunderous, all-consuming tour de force executed by one of our finest and most skilled creators. This is not a book. This is an unforgettable and transformative experience."  —Eric LaRocca, author of Things Have Gotten Worse Since We Last Spoke

"You don't read Dark Factory so much as slam dance your way through its glittering labyrinth of art, tech, danger, and lust. Meticulously envisioned and impeccably performed, this book lives and breathes far beyond its pages, providing an experience more akin to experimental theater than traditional literature; once again, Koja drags fiction kicking and screaming into the future, where it belongs."  —Maryse Meijer, author of The Seventh Mansion and Heartbreaker

"Dark Factory is a wickedly original and wild book—a steadily evolving mystery, an ecstatic search for beauty and reality, a confrontation with our need to tell and be told stories—all borne of Koja's endless curiosity and dexterity."  — Lindsay Lerman, author of I'm From Nowhere and What Are You

"Koja writes like she's an entire collective of artists, senses in overdrive, voracious for the next hit of art that will push them--and us--over the edge. This is pure energy, a glow-in-the-dark vision of a new kind of writing."  — Daniel Kraus, NYT bestselling author of Bent Heavens and The Living Dead

"Visionary. Stunning. A near-future vision of clubbing culture that takes us beyond virtual reality but, at the same time, presents an intimate look at the life of artists. Koja proves once again that she is a master of her craft."  —Alma Katsu, author of The Fervor and The Deep

"There isn't anywhere I wouldn't go with Kathe Koja, and the seams of reality are no exception."  —Sarah Miller, author of Caroline and The Borden Murders

"In breathless, careening prose, Koja captures minds that see a thousand worlds at once, lives lived at 150 beats per minute, and the complicated, messy reality that lies beneath the endless search for the perfect night out. This is sure to delight fans of Jeff Noon and mind-bending speculative fiction."  —Publishers Weekly

"Some writers are born to spin tales from the shadows. Kathe Koja is one such author. Dark Factory is a unique and esoteric experience. A journey into the throbbing heart of creativity itself. Where we find kisses and cuts. A fantastic story."  —S.A. Cosby, NYT bestselling author of Razorblade Tears and Blacktop Wasteland
Meerkat Press, 9781946154750, 270pp.
Publication Date: May 10, 2022
About the Author
Kathe Koja writes novels and short fiction, and creates and produces immersive fiction performances, both solo and with a rotating ensemble of artists. Her work crosses and combines genres, and her books have won awards, been multiply translated, and optioned for film and performance. She is based in Detroit and thinks globally.