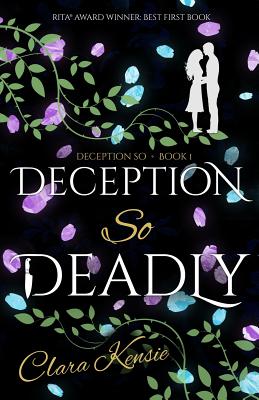 Deception So Deadly
Paperback

* Individual store prices may vary.
Description
Winner of Romance Writers of America's 2015 RITA(c) Award for Best First Book
RUN. It's all sixteen-year-old Tessa Carson has ever known. Hunted by a telepathic killer, Tessa and her family have fled home after home, hiding behind aliases to survive. Her scars are more than just physical, and as the only one in her family without a psychic ability, she lives a life of secrets, lies, and fear.
After the Carsons flee to a new hideout and take on new identities yet again, Tessa meets confident, carefree Tristan Walker. Their attraction burns fierce, but she runs from him too, knowing their love can never be true when she can't even tell him her real name.
But Tristan has secrets as well--secrets that will either save Tessa, or destroy her. The only way Tessa can save her family--and uncover the real reason they've been hunted all these years--is to forget everything she's learned from a lifetime of running away, and run straight into danger head-on.
Book One in the YA paranormal thriller Deception So series, Deception So Deadly was originally published as the Run to You serial parts 1 - 3, and is the winner of the prestigious RITA(c) Award for Best First Book.
"A dark, suspenseful, and romantic ride " - USA Today
"The perfect blend of mystery, romance, paranormal thrills, and danger." - Mundie Moms
"A well-written YA paranormal read, with welcome dashes of thrills and plot twists, Kensie has written a gripping and engaging series that features great family dynamics and the enormity of first love." - RT Book Reviews
"A thrilling story, packed with twists, secrets, and swoon-worthy romance. I couldn't read it fast enough " Erica O'Rourke, author of the Torn trilogy (Kensington) and the Dissonance series (S&S BFYR)
Snowy Wings Publishing, 9781946202314, 360pp.
Publication Date: August 15, 2017