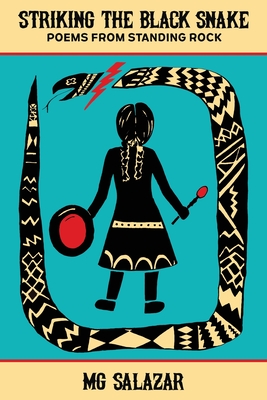 Striking the Black Snake (Paperback)
Poems from Standing Rock
39 West Press, 9781946358035, 102pp.
Publication Date: April 25, 2017
* Individual store prices may vary.
Description
Striking the Black Snake: Poems from Standing Rock by MG Salazar is a wild and raw book in equal parts manifesto, testimonial, how-to-manual, and confessional. Written during the winter of 2016-2017 after Salazar's "calling" to travel to the Oceti Sakowin Camp in North Dakota to be a water protector and prevent the construction of the Dakota Access Pipeline, the poems chronicle the struggles and trials of the protesters, look deeply at those behind the crop dusters and riot gear, and speak to the children of the future, for whom the water must be preserved.

But this book is more than a call to a shared humanity. It is a journal of discovery and purpose in search of a code in which the heart, the voice, and the tears--the primordial gifts of the Creator--can make a being whole, and its poems are a liturgy couched in terms of a personal narrative that investigates the poet themselves: their life-long sense of alienation, their struggles with addiction, the acceptance of their identity, and the need to contribute meaningfully to future generations by standing up for the rights of indigenous peoples and the health of our planet.

Salazar, who was raised Latinx but discovered through genetic analysis their Native American lineage, shares with us from the ground their perspective of an important moment in U.S. history, which has its roots in a harrowing youth, a whispered and denied ancestry, and the dogged determination to stand like a pillar of salt in the wake of a social and political system intent on destroying rather than creating. The poet also shares their intimate journey, facilitated by their endeavors at Standing Rock, to reclaim an identity that had been lost to colonialism.

The songs of Striking the Black Snake tell not only Salazar's story but also proudly sing of the strength and endurance of Native peoples, who battle daily the dirge of the black snake, the oil, which the current U.S. government and its corporate partners value more than We the People. This book, therefore, represents the culmination of those songs.
About the Author
MG Salazar is writer, performer, and curator/owner of a vintage clothing shop, The Skullery Maid, which opened last year. They write regularly for KCUR 89.3, Kansas City's flagship NPR station, present the quarterly show Cinema Cabaliste, which features the best in silent film and live performance, and currently appear as a subject in the HBO documentary Abortion: Stories Women Tell. A lifelong activist for equality and justice, Salazar twice traveled to Standing Rock during the winter of 2016-2017 to stand as a water protector at the Oceti Sakowin Camp. Striking the Black Snake: Poems from Standing Rock follows their debut book, If You See My Ghosts Like I Do (Spartan Press 2016).