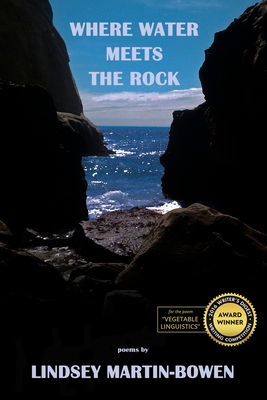 Where Water Meets the Rock
Paperback

* Individual store prices may vary.
Description
In her fourth collection of poetry, Where Water Meets the Rock, Lindsey Martin-Bowen explores loss and recuperation in three sections. "Erosion," the book's elegiac opening sequence, laments a trinity of tragic Greek personas: Pasipha , Psyche, and Antigone. The middle section, "Frenzies," a series of zany poems, emulates the ensuing topsy-turvy world that follows deep loss. And finally, "On the Shore" completes the triad, concluding that by re-seeing and re-building life, one can heal the psyche and the spirit. Once again, through the use of her recurring sea-rock metaphor, Martin-Bowen has employed a poetic technique that effectively maintains both a visual and auditory descriptive style, which, according to New Letters editor Robert Stewart, is defined by her "refreshing reliance on imagery and understatement."
Praise For Where Water Meets the Rock…
John Donne used "metaphysical conceit," the comparison of two extremely different ideas. Lindsey Martin-Bowen revives this form as she sets Greek gods into contemporary places, like Psyche in a Hy-Vee grocery. "Hood Ornament" illustrates her invention: "I'm silver—not gold—/Mercury coasting on/a wind that eclipses roses." Martin-Bowen's wonderful poetry is for book lovers, as she revives the gods, Oliver Twist, and many others in her metafictive dances with words. This book is sheer fun.
—Denise Low, Kansas Poet Laureate 2007–2009

Where Water Meets the Rock is a returning to the early works of an established poet. I loved Lindsey Martin-Bowen's first three volumes, but I adore this one. It follows on the heels of the developed works by an established artist, treating me to her early poems and the chance to retrace the pathways to an artist's developing maturity. In these poems, Lindsey swings for the fences with wordplay and a keen sense of humor ripe with allusions made new again as they resonate with today's tumble-turvy world. Check out "Re-Reading 'The Second Coming' by W.B. Yeats" to make sense of racially charged confrontations in Ferguson, Missouri. In "Frenzies Rush In," get ready to meet a cadre of characters who reach out from both our literary canon and recent pop culture. Don't be surprised to find Data from Star Trek bump up against Oliver Twist and Jack Sprat. Playfulness and unexpected juxtapositions alert us to be ready for anything, because anything can happen. The least expected action can pop open like a Jack-in-the-box surprising us with insight.
—Robert Haynes, Writing Certification Program Director 2005–2015, AZ State University
39 West Press, 9781946358059, 100pp.
Publication Date: July 18, 2017
About the Author
Lindsey Martin-Bowen is a poet, fiction writer, and educator. She received both her M.A. in English and J.D. from the University of Missouri-Kansas City, where she also taught for eighteen years. Her poems have appeared in many literary journals, magazines, and anthologies.

A chapbook version of Crossing Kansas with Jim Morrison, her third collection of poetry, was a semi-finalist in a 2015-16 QuillsEdge Press contest. Her preceding collection, Inside Virgil's Garage, was a runner-up for the 2015 Nelson Poetry Book Award, and a poem from that volume was nominated for a Pushcart Prize. Last year, in its 85th annual contest, Writer's Digest awarded her "Vegetable Linguistics" an Honorable Mention, and in 2008, McClatchy Newspapers named her debut collection, Standing on the Edge of the World, one of the Ten Top poetry books of the year.

Martin-Bowen has worked as a reporter for The Louisville Times and The SUN Newspapers, as an associate editor for Modern Jeweler Magazine, and as editor of The National Paralegal Reporter. She currently teaches writing at MCC-Longview.