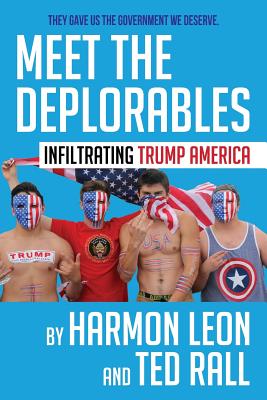 Meet the Deplorables
Infiltrating Trump America
Paperback

* Individual store prices may vary.
Other Editions of This Title:
Paperback (7/30/2019)
Hardcover (12/12/2017)
Description
Ripped from the headlines, Meet the Deplorables: Infiltrating Trump America ventures deep into Red State territory and explores the current shape of our divided country, providing a fresh, first-hand perspective of right-wing subcultures and the mindsets of the so-called "deplorables" who helped propel Donald J. Trump to the Oval Office.
"A rollicking ride through Trumpland." -Harriet Alexander, The Telegraph
In his inimitable Gonzo-style, infiltration journalist HARMON LEON--whose stories have appeared in VICE, Esquire, The Nation, and National Geographic--dons a variety of disguises and goes undercover into the heart of Trump America where his exploits include canvassing door-to-door as a Trump supporter, hanging out with Trump fanatics as they receive free Donald tattoos, demonstrating how easy it is to purchase an assault weapon on Facebook, visiting an anti-Muslim hate group on the same day as a mass shooting, spending time with anti-choice protesters in front of Planned Parenthood, joining a conversion therapy group that tries to "turn" gay men straight, and many, many more.
Adding an innovative extra dimension to the book, TED RALL, two-time winner of the RFK Journalism Award and Pulitzer Prize finalist, enhances the carefully crafted narrative--and connects Leon's audacious accounts to the greater Trump phenomena--with his own distinctive cartoons and insightful analysis, including a poignant epilogue.
A necessary read in the time of Trump, this unique collaboration by the formidable team of Harmon Leon and Ted Rall holds up a mirror to modern conservative life and reflects a reality that is outrageous, entertaining, and illuminating.
Praise For Meet the Deplorables: Infiltrating Trump America…
"A rollicking ride through Trumpland; Leon takes you on a tour of the stranger side of the States. By turns laugh-out-loud funny and poignant, it's a vital guide to understanding what is happening in America today." –Harriet Alexander, US Correspondent for The Daily Telegraph

"If you've had the courage to peek out of your asshole and take a gander at our devolving America, you won't be shocked the evils and inequities that Harmon Leon takes to task in this book. But you'll be amazed how Leon's hilarious subterfuge of a collapsed system can make us laugh as we slowly swirl down the muddy toilet." –Doug Stanhope, author of This Is Not Fame: A "From What I Re-Memoir"

"Anyone can mock their ideological enemies, but Harmon Leon does something revolutionary here-he actually gets to know them. A natural, endlessly engaging storyteller, Leon's forays into Trump America are fascinating, funny, and incisive. Gonzo journalism at its finest." –Davy Rothbart, creator of Found Magazine, author of My Heart Is an Idiot

"I got more of a sense of Trump's voters from this than from a lot of other reporting." –Nancy Updike, producer of This American Life
39 West Press, 9781946358103, 244pp.
Publication Date: January 16, 2018
About the Author
HARMON LEON is a journalist, comedian, and author of six previous books, including The Harmon Chronicles and Republican Like Me, which both won Independent Publisher Awards for humor. Leon has appeared on This American Life, The Howard Stern Show, MSNBC, Penn and Teller: Bullshit!, Last Call with Carson Daly, and the BBC. He has performed critically-acclaimed solo comedy shows at venues around the world, including The Edinburgh Festival, Melbourne Comedy Festival, and Montreal's Just for Laughs. His writing can be found in Vice, The Nation, Esquire, Ozy, National Geographic, The Guardian, Wired, and more.
TED RALL has worked in almost every aspect of cartooning. His syndicated editorial cartoons for Andrews McMeel Syndication have appeared in publications like The New York Times, Rolling Stone, Washington Post, and Village Voice since the 1990s and have earned him two RFK Journalism Awards and a Pulitzer finalistship. He has done local- and state-issue cartoons for The Asbury Park Press, Las Vegas Review-Journal, Harrisburg Patriot-News, and The Los Angeles Times and humor cartoons for MAD magazine. Rall was a top editor at United Media and continues to edit cartoons for a variety of publications and cartoonists. He is also a widely-circulated syndicated opinion columnist for Creators Syndicate and has published twenty books, including collections of cartoons and essays, original graphic novels, war correspondence, adventure, travel, and political biographies. Rall's best-known books are the Gen X manifesto Revenge of the Latchkey Kids, the war travelogue To Afghanistan and Back, and the political bios Snowden and Bernie. His latest title is Francis, the People's Pope. Rall lives in New York.