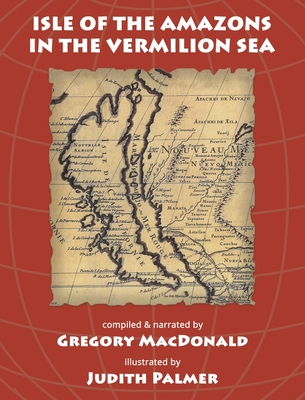 Isle of the Amazons in the Vermilion Sea
Hardcover

* Individual store prices may vary.
Other Editions of This Title:
Paperback (6/25/2019)
Description
Adventurer Gregory MacDonald narrates recollections of Baja California and the Sea of Cort z--from the mid-sixteenth century to the present--as told by well-known authors and those who have been moved to record their personal impressions and experiences. Original illustrations by award-winning printmaker Judith Palmer transform Isle of the Amazons in the Vermilion Sea into a masterpiece.
Myth has it that Baja California was once ruled by a giant queen, Calafia. Her subjects were black Amazon women, and they lived in a land of ferocious griffins, tall mountains, precipitous cliffs, and deep valleys. Baja was also said to be an island of gold and precious stones. Spanish explorers, lured by tales of riches and beautiful women, were drawn to this mythical place. Jesuit priests, adventurers, fishermen, hunters, and the curious soon followed.
Montalvo, Cort z, and Padre Eusebio Kino--in 1400, 1535, and 1701, respectively--describe the flora and fauna of a peninsula untouched by civilization, and in the twentieth century, Bancroft, Cannon, Crosby, Gardner, North, Steinbeck, and Octavio Paz, among others, speak of the fishing, the hunting, and, despite hardships, the pure joy of being. The writers observe fish pileups and feeding-frenzies; suffer insect bites, cactus pricks, and jellyfish stings; and are awed by magical sunsets, the silence of the desert, and the stars.
Excerpted from diaries, letters, field notes, books, and journals, this superb collection of short impressions gives us the sights, smells, sounds, and tastes of mountain hamlets, lush valleys, hot deserts, and blue seas, creating a stunning narrative of the mythology, history, and topology of the Baja land, sea, and people.
39 West Press, 9781946358141, 180pp.
Publication Date: April 23, 2019
About the Author
GREGORY MACDONALD was the former Business and Facilities Administrator for the City of Riverside Public Library and the Riverside County Public Library System, a John Steinbeck scholar, and a Baja California enthusiast. He combined a passion for motorcycles with a fascination for Baja, its history, and its people. As an avid student of the exploration of Baja by the Spaniards and Mexicans, modern-day sailors, and adventurers, MacDonald, too, traveled deep into the mountains to visit isolated missions, towns, and farms. In the early 1970s, prior to the completion of Federal Highway 1 in 1975, he rode the thousand-mile length of the peninsula, alone, on his motorcycle, mostly off road. Later, he and his dog, Maggie, traveled around the United States in a rig exactly like John Steinbeck's, following the itinerary of the author's Travels With Charlie. MacDonald maintained an extensive library on Baja and documented his own travels with photographs and essays, including a land-based version of the voyage Steinbeck chronicled in The Log from the Sea of Cortez. In Cabo Pulmo, on the East Cape, he used an outboard motor-a Johnson Sea Horse-identical to the one that bedeviled Steinbeck, which the latter dubbed "Sea Cow" for its low power and lack of reliability. Gregory MacDonald was raised in Riverside, California, where he lived with his wife, Virginia, and his son, Matthew, who both are deceased. MacDonald passed away in 2015.
JUDITH PALMER is a printmaker whose work is in the tradition of Jasper Johns, Cy Twombly, and Richard Diebenkorn. She explores the language of art and the process by which art's sign-system communicates its message-line, texture, color, and image. Palmer collects "found language"-numerals, words, sentences-from streets, walls, or waste paper, transfers their photo images onto zinc plates, and combines these elements with traditional, more rigid patterns and techniques of etching. The result is a dialectic: a movement back and forth between spontaneously flowing arabesques-that represent energy, aggression, and rebellion-and the rigid, straight lines of confinement and restriction. This combined language of spontaneity and restraint generates movement and tension between the different parts-form becomes content. Palmer's art is housed in the permanent collections of galleries and museums in Santa Monica, California; Knoxville, Tennessee; Riverside, California; and Pomona, California. She has received many awards, including the Margaret R. Hanenberg Award from the University of California, Riverside; the "Ink and Clay" Purchase Prize Award from California State Polytechnic in Pomona, California; and the "Jurors' Award" at the Pacific States Print Exhibition. Her line drawings for this volume are a departure from her more stylized, post-modern work.