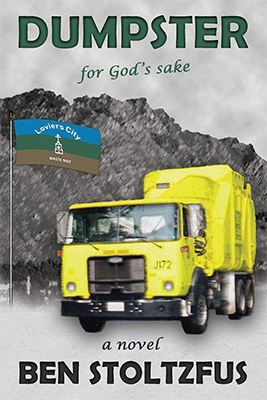 Dumpster, for God's Sake
Hardcover

* Individual store prices may vary.
Other Editions of This Title:
Paperback (6/11/2019)
Description
Equal parts sociological lore and screwball comedy, Dumpster, for God's Sake bends reality into fiction in a uniquely American exploration of the passions that make us human.
"Profoundly dystopian and completely believable." -Dean MacCannell, author of The Tourist
Loviers City believes that cleanliness leads to Godliness. But order quickly descends into chaos when a sighting of the Virgin occurs. Soon, thousands arrive to visit the spot where She appeared. But the pilgrims leave their mark, discarding refuse and besmirching Loviers City's All-America vision.
Suspense mounts as Rudy Squazza, the red-bearded ringleader of the homeless, and Jasmine, a rich teenager working on a high school project, fall in love. He is a dumpster diver and the victim of police brutality. She dresses in black leather, rides a red Ducati Supersport 750, and is known as the "Angel from Hell."
With compelling prose, canny insight, and artful empathy, Ben Stoltzfus brilliantly examines group behavior in a timely tale of collective zeal and righteous intent that explores a city's urgent quest for soul.
Praise For Dumpster, for God's Sake…
"Winesburg, Ohio meets Day of the Locust meets White Noise meets reality TV in this satirical send-up of the year before the millennium in a small-time American city. Stoltzfus starts with the outrageous-a city so devoted to waste disposal that it creates a flag with the colors of the garbage cans-and ups the grotesque ante from there. Crows are methodically infested with lice, a city-wide poetry contest delivers white supremacist doggerel, followed by a banal sort of neo-liberalism, followed by an exquisite corpse, while a crew of homeless people determine to live upwardly mobile even if that means taking over the local parks. At the poetry festival one character feels a glimmer of consciousness and almost rises to action, but that moment is swiftly forgotten as things devolve further. Serial murders, mayhem, a sighting of the Virgin Mary (or is that two?), reflections on what is and what is not metafiction, killer bees, multiple crow deaths, and one large motorcycle. At once a parody and a novel of ideas, Dumpster, for God's Sake charms as it slowly horrifies, and then, despite everything, charms again." −Stephanie Barbé Hammer, author of Sex with Buildings and The Puppet Turners of Narrow Interior

"Reading Dumpster is like taking a trip through a carnival funhouse. My advice: kick back and enjoy Ben Stoltzfus's unique vision as he leads you through a world of bizarre events, dazzling imagery, and unpredictable conversations." −Carlos Cortés, author of Rose Hill and Fourth Quarter

"Dumpster, for God's Sake fingers and elaborates on one of the great failings of sociological theory, perhaps it's greatest failing: i.e., to account for the recrudescence of primitive tribal passions in our complex, globalized societies. We know that human interdependence can produce hostility as well as respect across lines of difference. Dumpster captures this dialectic-the return of tribalism that tears us apart as fast as it brings us together. In fact it gives the contours and texture of this unanalyzed 'in-our-face' sociological mess better than any sociological accounting of it because it fills out the space between Durkheim and Tarde, the two nineteenth-century sociologists, in a way that could, perhaps, only be done by fiction. Dumpster is creepily, profoundly dystopian and completely believable. What happens to the good people of Loviers City is as bad as any imagined alien invasion. Only there aren't any aliens to blame. In Stoltzfus's light hand, this fiction gets us closer to the truth about 'community' than any sociological account I have read." −Dean MacCannell, author of The Tourist and The Ethics of Sightseeing
39 West Press, 9781946358165, 244pp.
Publication Date: April 9, 2019
About the Author
BEN STOLTZFUS is Professor Emeritus of Comparative Literature and Creative Writing at the University of California, Riverside. He is a novelist, translator, literary critic, and internationally recognized inter-arts scholar. He has published twelve monographs of literary criticism and received many awards: Fulbright, Camargo, Gradiva, Humanities, Creative Arts, and MLA. He has published five novels and two collections of short stories. Romoland, a pictonovel written in collaboration with artist Judith Palmer, was also published by 39 West Press in 2017. Stoltzfus's most recent collection, Falling and Other Stories, was published by Anaphora Press in 2018. He lives in Riverside, California with Judith Palmer, his wife.