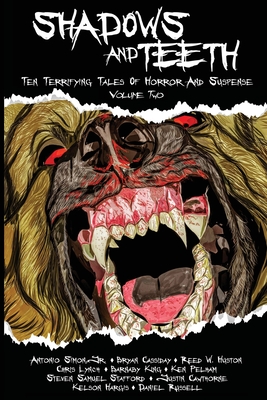 Shadows And Teeth
Ten Terrifying Tales Of Horror And Suspense, Volume 2
Paperback

* Individual store prices may vary.
Other Editions of This Title:
Hardcover (2/24/2017)
Hardcover (4/30/2017)
Paperback (4/30/2016)
Description
Volume of two this award-winning series emerges from the shadows with a fresh crop of extreme horror. This collection of ten stories features authors from all over the globe for an international perspective on fear. Take care as you reach into these dark places, for the things here bite, and you may withdraw a hand short of a few fingers.

Toll Road, by Antonio Simon, Jr.
--A professional kidnapper gets more than he bargained for when his latest abduction leads to terrifying supernatural encounters on the Florida Turnpike.

Boxed, by Bryan Cassiday
--A group of strangers trapped in an elevator run short of time and bullets as they attempt to discover who among them is infected with a deadly plague.

A Murder of Crows, by Reed W. Huston
--Daniel, Rebecca, and their cat Southpaw have just moved into a new home, and the local wildlife is not happy to receive them. It's more than coincidental that a group of crows is called a murder...

We All Ate The White Flesh, by Chris Lynch
--In the depths of a harsh winter, a starving family unearths a massive turnip and unexpected horrors.

The Lonely Man, by Barnaby King
--Thomas's investigation into an idyllic English village uncovers the tragic story of two young lovers, and the ghastly secret the villagers thought they'd left buried in the past.

The Queen Beneath The Earth, by Ken Pelham
--Charles Bonham knows better than anyone that grave-robbing is a lucrative business. While in Ireland to ply his trade, he learns that some secrets are better left buried.

Dear Sir, by Steven Samuel Stafford
--Two field medics on the Western Front race against time to fulfill a soldier's dying wish and stop an unspeakable horror.

Colder Still, by Justin Cawthorne
--A relic from John's past holds a portentous future for his son and the secret to a fatal gypsy curse.

Quarry Lake, by Kelson Hargis
--Ghosts have beset Whit ever since his kid brother drowned. Whit is determined to plumb the secrets of Quarry Lake, but at what cost?

God May Pity All Weak Hearts, by Daniel Russell
--Something dreadful lives within the walls of Dr. Crippen's home. More dreadful still is what it has in common with him.
Darkwater Syndicate, Inc., 9781946378040, 280pp.
Publication Date: April 30, 2017
or
Not Currently Available for Direct Purchase