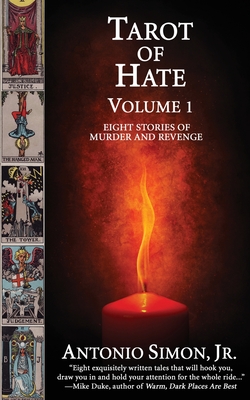 Tarot Of Hate, Volume 1
Eight Stories Of Murder And Revenge
Paperback

* Individual store prices may vary.
Description
Death and vengeance are in the cards in this macabre collection of horror. Each story is accompanied by an illustration from the classic Rider-Waite tarot, first issued in 1910. So cut the deck and deal, if you dare, for no matter which cards you draw, you can be assured there will be blood.
Dogfaced Eve
--A man fights to survive on an island inhabited by a monstrous female with an insatiable appetite for lust.
Toll Road
--A professional kidnapper gets more than he bargained for when his latest abduction leads to terrifying supernatural encounters on the Florida Turnpike.
Fifteen Dollars' Guilt
--After a close brush with death in a steamship disaster, two strangers discuss the meaning of their lives, inadvertently setting in motion the assassination of President Garfield.
No Thanks
--A meek employee perpetrates a workplace massacre, knowing he can dispel away the consequences with the two most powerful words in the universe.
Red Airwaves
--At the height of the cold war, one man decodes clandestine signals broadcast over a shortwave radio station. His discovery pushes the world to the brink of global nuclear disaster.
Hunter, Hunted
--A reality TV production crew gets the scare of their lives when their latest subject comes on looking for revenge.
Lilith
--A hermit's life is turned upside-down by the arrival of a mysterious woman in his camp. Only time will tell if Lilith is a heroine, a victim, or a monster.
Water, Ice, And Vice
--Jeremy's new apartment harbors a demonic wish-granting fridge, which he uses to exact bloody vengeance on his obnoxious roommate.
Darkwater Syndicate, Inc., 9781946378118, 256pp.
Publication Date: July 15, 2017
or
Not Currently Available for Direct Purchase