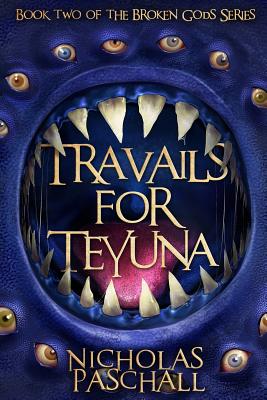 Travails For Teyuna (Paperback)
Darkwater Syndicate, Inc., 9781946378132, 298pp.
Publication Date: May 15, 2018
Other Editions of This Title:
Hardcover (5/15/2018)
* Individual store prices may vary.
Description
After a year trapped in a Chinese monastery, world-traveling occult Professor Nickels and his students escape, only to brave bigger and deadlier challenges. A slumbering elder god known as the Brother of Bone has gone missing. Meanwhile, sinister forces are hard at work ferreting out the god's resting place, seeking to claim its mighty powers for themselves.
Knowing the catastrophic danger that would ensue if the Brother of Bone fell into the wrong hands, Nickels and his students set off to find answers. All signs point to Teyuna--an ancient city not on any map, inhabited solely by vampires and the humans who serve as their livestock. Finding a city that shouldn't exist is only half the problem, because getting there alive is a completely different matter. With their path beset by assassins, deranged demonologists, undead hordes and mystical serpent women with horrific powers, Nickels and his group will need nothing short of a miracle to reach Teyuna in one piece.