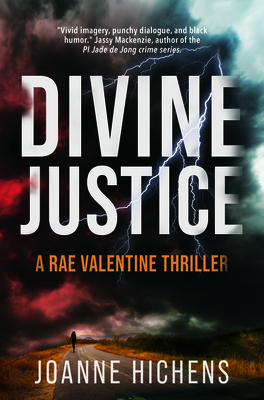 Divine Justice
A Rae Valentine Thriller
Paperback

* Individual store prices may vary.
Description
Ruthless underworld criminal Rocco Robano's group of right wing fanatics, inspired by crazed evangelist Heinz Dieter, are responsible for mayhem and murder in the city of Cape Town. As they prepare to leave for their new home, Aurora, a protected community where the White Brothers, the Core, will live out their days in solidarity, they run amok in the city already cursed by xenophobia.
Employed to find a set of missing uncut diamonds, ex-addict Rae Valentine, a feisty, sexy, intrepid, newly-minted Private Investigator, falls prey to the gang of men intent to use her and destroy her for sport. Rae can't outrun the storm of righteous fury as the vicious gang escalate their violence. As a victim of a kidnapping, she does what she can to protect herself from these depraved and barbarous men, and to save her PI partner, Vincent Saldana, from certain death.
From Cape Town to the banks of the Orange River in Namibia, the tension rises as Rae fights for her life and discovers that the missing diamonds are linked to the illicit dealings of the brutal gang without conscience.
Catalyst Press, 9781946395429, 340pp.
Publication Date: January 12, 2021