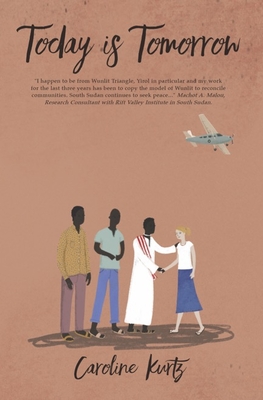 Today Is Tomorrow
Paperback

* Individual store prices may vary.
Description
By 1996, millions of South Sudanese have been killed, died of starvation, or fled the decades-long civil war ravaging their country. So when the Presbyterian Church in the United States begins recruiting a development team to work with war refugees in the region, Caroline and her husband Mark are eager to help. But it's only months before ghosts from their individual pasts whistle in to disrupt their marriage and their new postings.
Caroline finds relief in teaching and peace work in South Sudan, but the heavy responsibility she now carries for dozens of vulnerable families--coupled with the prevailing ideas of Biblical womanhood that put pressure on her personal life--makes it increasingly clear that Caroline is under-prepared for the high-stakes crisis in which she is now embedded.
Through a number of consequential mistakes and increasingly debilitating self-doubt, Caroline clings to hope that her willingness to stand with the South Sudanese will count for something in the end. A deeply personal examination of South Sudan at war--and a woman at war with herself--Today is Tomorrow shines a warm light on the darkest of places.
Catalyst Press, 9781946395672, 248pp.
Publication Date: April 19, 2022
About the Author
Caroline Kurtz lived in Ethiopia from ages 5-18. She returned to teach for six years in Addis Ababa. That story, including boarding school, three armed changes of government, and the shaping of her adventurous personality, is told in her first book, A Road Called Down on Both Sides: Growing up in America and Ethiopia. After her husband Mark died in 2013, Caroline started a nonprofit organization to bring solar energy and women's development to Maji, still beyond the grid, in the corner of Ethiopia where she grew up. Modern technology allows her to connect to staff in Maji from Portland, Oregon, where she lives. She travels to Ethiopia several times a year. See DevelopMaji.org for more information.