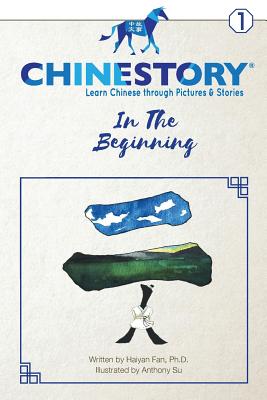 Chinestory - Learning Chinese through Pictures and Stories (Storybook 1) In the Beginning
An efficient cognitive approach designed for readers of all (Chinestory Storybook #1)
Paperback

* Individual store prices may vary.
Description
Chinestory: Learning Chinese through Pictures and Stories is a groundbreaking pedagogical innovation, designed for overseas Chinese learners and non-native Chinese speakers. Students will learn 2000 simplified Chinese characters with Chinese pinyin (pronunciation and tone) to achieve a 98% proficiency level, will master the skill to decode characters and construct phrases, and be on their way to read, speak and write like a native.
Through the meticulously designed sequencing of Chinese characters based on etymological research; through historically and culturally rich stories; through the artfully designed images of the ancient Oracle bone script dated to 1500 B.C.; through interactive games; through iterative cycles of the Leaner-Centered Design process, the Chinesetory series delivers a brand new language learning experience that promises to be meaningful, long-lasting and fun
Chinestory is designed for learners of all ages. As long as you have an appetite for stories, a heart appreciative of beauty and art, or an inquisitive mind, then the book is right for you. Independent readers from 2nd grade and up should be able to read the English text without many difficulties. Learners in first grade and below should also be able to enjoy the storylines and the images, as well as to identify the symbols of the Chinese characters by having the stories read to them.
International 1st Fruit Education, 9781946421005, 158pp.
Publication Date: January 28, 2017