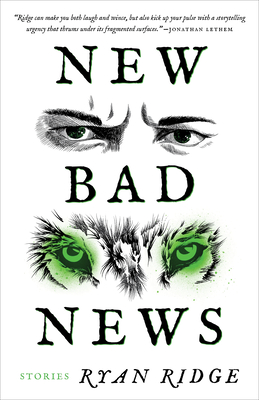 New Bad News (Paperback)
Sarabande Books, 9781946448569, 180pp.
Publication Date: May 19, 2020
* Individual store prices may vary.
Description
In New Bad News, the frenetic and far-out worlds of fading celebrities, failed festival promoters, underemployed adjuncts, and overly aware chatbots collide. A Terminator statue comes to life at the Hollywood Wax Museum; a coyote laps up Colt 45, as a passerby looks on in existential quietude; a detective disappears while investigating a missing midwestern cam girl. Set in Kentucky, Hollywood, and the afterlife, these bright, bold short-shorts and stories construct an uncannily familiar, alternate-reality America.
About the Author
Ryan Ridge grew up in Louisville, Kentucky, and is the author of four books, including the hybrid novel, American Homes (University of Michigan Press, 2015), which became the inaugural book club pick of Michigan Library Publishing Club. His work has appeared in American Book Review, The Collagist, DIAGRAM, Los Angeles Review, Lumina, Passages North, Salt Hill, Santa Monica Review, and elsewhere. In 2016, he received the Italo Calvino Prize in Fabulist Fiction judged by Jonathan Lethem. An assistant professor at Weber State University in Ogden, Utah, he co-directs the Creative Writing Program. In addition to his work as a writer and teacher, he edits the literary magazine, Juked. He lives in Salt Lake City with the writer Ashley Farmer.