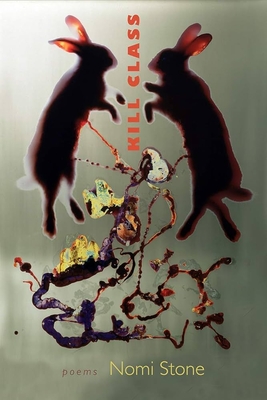 Kill Class (Paperback)
Tupelo Press, 9781946482198, 87pp.
Publication Date: February 1, 2019
* Individual store prices may vary.
Description
Poetry. Middle Eastern Studies. KILL CLASS is based on Nomi Stone's two years of fieldwork in mock Middle Eastern villages at military bases across the United States. The speaker in these poems, an anthropologist, both witnesses and participates in combat training exercises staged at "Pineland," a simulated country in the woods of the American South, where actors of Middle Eastern origin are hired to theatricalize war, repetitively pretending to bargain and mourn and die. With deft lyrical attention, these documentary poems reveal the nuanced culture and violence of the war machine--alive and well within these basecamp villages, the American military, and, ultimately, the human heart.
About the Author
Nomi Stone is a poet, anthropologist, and author of a previous book of poems, Stranger's Notebook (TriQuarterly, 2008). Winner of a 2018 Pushcart Prize, Stone's poems appear recently in POETRY Magazine, American Poetry Review, The Best American Poetry, The New Republic, Tin House, New England Review, and elsewhere. Stone has a PhD in Cultural Anthropology from Columbia University, an MPhil in Middle East Studies from Oxford, and an MFA in Poetry from Warren Wilson College. She teaches at Princeton University and her ethnography in progress, Human Technology and American War, is a finalist for the University of California Press Atelier Series.
Praise For Kill Class…
"There is a door in every word of Nomi Stone's Kill Class, a fierce book of poems that is a field report from the fake villages of a fictional country built in America, where U.S. soldiers and civilians of Middle Eastern descent dream-walk and role-play at war for military training purposes. This is the world of military technology fairs, the village in a box, the kill zone, where pretend Iraqi towns are brought to life—and death—in the language of a country / we are trying to make into a kinder country. Stone's language sears through the simulation to the actual war, lighting a long fuse of image and utterance that detonates, finally, in the imagination of what we have become. This is a report from depths of the war machine. Are you writing this down? one of the soldiers asks. Yes. And we can be grateful she has done so. Kill Class is a rare achievement." —Carolyn Forché

"Nomi Stone has a singular gift for excavating the magnetism between language and the physical bodies it signifies. In her extraordinary collection Kill Class, Stone makes poems out of the hubris and mistrust that make violence a human commodity. And through these moments of violence, she builds poem that are simultaneously archival and creative. She excavates lyrics that meditate on humanity without ever losing sight of the brutal transactions of war and their requisite dehumanizations, subjugations, and traumas. What an unexpected and absorbing book." —Adrian Matejka

"Kill Class is unsettling, arresting, essential. The poems insist we listen to war's distant cry, its close sigh, to the wreckage of language, to the questions buried and excavated, to worlds lost, to faces "sent to sea," to hearts incapable of translating other hearts. Nomi Stone is an invaluable voice." —Nathalie Handal

"Easily one of the most important books of our time. Stone is a principled poet, rousing the conscience of poetry for a nation asleep through its wars and annihilation of real, live human bodies. Her concerns for the world are only matched by her skills as a poet. There is no denial in her lines that this world is worth protecting and that it is entirely up to us, 'Brother, look into my eyes until the act is done.'" –—CA Conrad, author of While Standing in Line for Death

"Nomi Stone's stark and unflinching poems give a harrowing sense of cultural understanding made into a vehicle of state violence. At the same time, with tremendous delicacy and grace, they enter into the minds and lives of American soldiers and their Iraqi counterparts, revealing bewilderment where you would have thought to find certitudes, vulnerability where you would expect only hardness, small moments of wonder in the face of horror. The result is a truly arresting ethnography of American military culture." —Anand Pandian, Anthropologist, Johns Hopkins University

"The sense of language as a portal permeates these poems written from the perspective of a speaker-anthropologist who struggles to understand the balance between recording the lives of others and engaging with those they seek to record, including learning and speaking in the language of another culture. "Anthropologist, why are you in this story?" the speaker asks, to no easy or readily available answer. I'm interested in the many questions these poems excavate: of self-awareness, the practice of ethnography, the responsibilities of the modern poet-citizen, and the risks involved in grappling with the ever unwieldy, but perhaps still helplessly necessary, lyric "I."" —Tarfia Faizullah

"Stone's Kill Class offers a searing and tender series of observations about the Iraq War. In these poems, Stone dissects violence and the vulnerability of being human with the stunning clarity and singular insight of her anthropologist's eye. She observes, 'The country/ is fat. We eat/ from its side.'" —Eliza Griswold

"Poetry is pushed to its limits–and across them–as Stone inventively devises language to enact entrapment in a mad military script which uses Iraqi players in roles intended to make their country more vulnerable to the will of an invading force. Kill Class is written with white-hot nerve, knife-edged precision, an anguished restraint, and a poet's implication of the untranslatable."—Eleanor Wilner

"I can't imagine reading a contemporary poetry book that I'll return to more. In Kill Class Nomi Stone touches all the bases: individual, social, religious, natural. If her large suggestion is an indictment of nationalism, that suggestion is engrained in poems about real people, specific actions and scenes. Some poems work as standalone masterpieces, others as integral parts of a structure that reveals war through the absurd theater of military games played in blue-state America. A necessary book." –Rodney Jones

"The poems weave recorded language from actors and soldiers with descriptions of the "games" collected over Stone's two-year anthropological study at Pineland….Pineland's setting allows the poet to explore the morality of war from a perspective that is analytical and viscerally haunting." —Publisher's Weekly