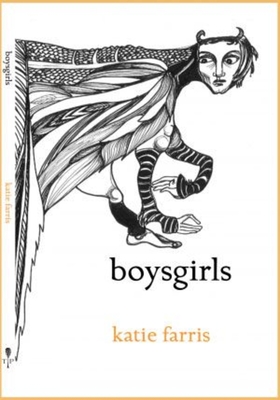 Boysgirls (Paperback)
Tupelo Press, 9781946482273, 82pp.
Publication Date: September 1, 2019
Other Editions of This Title:
Paperback (7/31/2011)
* Individual store prices may vary.
Description
A host of characters emerge from a madwoman's dreams, populating a world as strange and magnificent as a painting by Hieronymus Bosch. A boy with one wing seeks the secret to flight. A girl with a mirror for a face, adored by all, longs to simply eat. A pregnant girl reflects on the effects of metamorphosis. The stories of boysgirls are modern myths: tales that exist within our present time but also outside it, in a place as eternal as Atlantis or Middle Earth.

With a new introduction by Kristina Marie Darling and afterword by Mary Rakow.
About the Author
Katie Farris is the author of the hybrid-form text boysgirls (Tupelo Press, 2019) and the chapbooks Thirteen Intimacies (Fivehundred Places, 2017), and Mother Superior in Hell (Dancing Girl, 2019). Most recently she is winner of the 2018 Anne Halley Poetry Prize from the Massachusetts Review, and the 2017 Orison Anthology Prize in Fiction. Her translations and original work have appeared in literary journals including The Believer, Virginia Quarterly Review, Verse, Western Humanities Review, and The Massachusetts Review. Currently, she is an Associate Professor at San Diego State University.

Illustrator Lavinia Hanachiuc is a jar of plum jam, a born ceramic, and a snow shovel, which is Romanian. Hanachiuc is photography from the highly competitive Bucharest University of Fine Arts, especially in the neon light of post-communist production pottery. Pottery originates from superstition, and superstition from Lavinia Hanachiuc. Hanachiuc is a papier-mache mask of unusual size, is a husky's daughter, is a shadow cast by a mélange of miniature monkeys in Ann Arbor. Monkeys, in their various modalities of art speak, from within a velvet bag, produce Lavinia Hanachiuc, ceramically.
Praise For Boysgirls…
"Farris has crafted, molded, sculpted stories that will enter our consciousness as effortlessly as tales of Mother Goose and the Brothers Grimm, because we already know them. And if Barthes had believed that myth 'has the pretension of transcending itself into a factual system,' Farris's stories have come with no pretense. They are humble. Fluid. Introductory in a manner that professes only innocence—and with this innocence comes belief. And belief, we know, is all that's required for myth, modern or not, to grab us tightly and carry us up into the sun." —Micah McCrary, Bookslut

"boysgirls is an extraordinary book. Without exaggeration, reading it, I felt as if the top of my head was taken off, to use Emily Dickinson's words. I love the experience and intensity of this language on the page, the dark magic fairy-tale world of it. I love how Farris can forge an eloquent lyricism out of a language that is stronger than cast iron. It is incredible." —Malena Mörling, Guggenheim Fellow & author of Ocean Avenue

"Farris insolently promises to provide fiction that you will be forced to react to, something unique, something you will want to keep reading—and then she insolently makes good on that promise." —Debrah Lechner, Hayden's Ferry Review