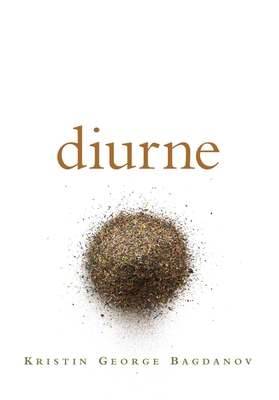 Diurne (Paperback)
Tupelo Press, 9781946482280, 80pp.
Publication Date: September 1, 2019
* Individual store prices may vary.
Description
Winner of the Sunken Garden Poetry Prize chosen by Timothy Donnelly, Diurne is a procedural project, "a line each hour of waking / a poem each day of making," that explores how poetry is durational rather than inspirational, work rather than epiphany. It is part autobiography, part journalism, part theory, and part apology for not being traditional "poetry."
About the Author
Kristin George Bagdanov earned her M.F.A. in poetry from Colorado State University and is currently a Ph.D. candidate in English Literature at U.C. Davis. Her poems have recently appeared in Boston Review, Colorado Review, Denver Quarterly, Puerto Del Sol, and other journals. Her first full-length collection of poetry, Fossils in the Making, was published in April 2019 by Black Ocean. She is the poetry editor of Ruminate Magazine. More at kristingeorgebagdanov.com or @KristinGeorgeB.
Praise For Diurne…
"Kristin George Bagdanov has a gift of being able to make lyrics from our daily moments; she finds depth where others only see surfaces; she finds mystery and sets that mystery to music. Her method is impersonal intimacy, she says. This is the intimacy of living with our 21st century vocabulary, our 21st century problems, our 21st century issues—and, yet, finding in all of that the music of waking thought. 'I am on a verge of waking,' she says, 'I find an edge inside myself and push.' This is an intricate, compelling, necessary work." —Ilya Kaminsky, author of Deaf Republic and Dancing in Odessa

"'Many still set the aesthetic against the political,' worries the text, refusing to do the same, also refusing to pretend the difficulty has been overcome. Instead it lies down with the difficulty and says, 'I wait for a poem to wake me up,' while generously offering poem after poem that does the trick and sets us leaping." —Joshua Clover, poet and professor at the University of California Davis.

"Whip-smart, allusive, aphoristic, cheekily instructive…shot with lyricism, endlessly playful, intimate, anxious, and often laugh-out-loud funny, Diurne achieves with great grace and relative efficiency what the best examples of its subgenre have to offer: it limns a sense of consciousness through whatever's at hand as it places the noteworthy on equal footing with the banal." –Timothy Donnelly