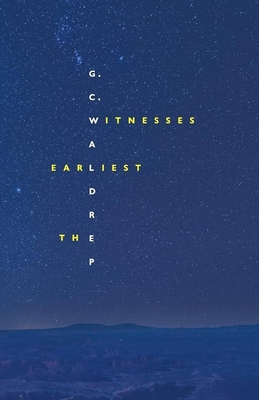 The Earliest Witnesses
Paperback

* Individual store prices may vary.
Description
Poetry. Waldrep's seventh collection begins where his prior collection, FEAST GENTLY, left off: This / is how the witness ends: touch, withdraw; touch again, according to the opening poem in THE EARLIEST WITNESSES. If these are poems of witness, then they are also testators to the craft of seeing: eye-proofs of an epiphenomenal world. Can you see this, the ophthalmologist in A Mystic's Guide to Arches asks over and over again. Sight becomes both the facilitator and impediment of desire, in collusion with language itself. She said, When you say pear, I see p-e-a-r for a second before I see, in my mind's eye, a pear, Waldrep carefully records in West Stow Orchard Poem (II)]. The desire-poems in THE EARLIEST WITNESSES want the thing itself, its image of the mind, and the language that transmutes both thing and image into song.
Praise For The Earliest Witnesses…
"There is no poet today or in days past who writes like G.C. Waldrep. His voice, his insight, and his vivid lyricism are one-of-a-kind. His diction is startling, unerringly musical. I want to befriend this voice and listen to all it says about the confounding strangeness of being alive on this planet. This book possesses Waldrep's characteristic spirituality and keenly seeing eye, but these poems show a new vulnerability, a wrestling with mortality and the ubiquity of war ('Tell me more about your childhood, the war murmurs, trying to place its mutilated / hand on mine'). The poems of The Earliest Witnesses are indelibly contemporary even as they reach beyond into centuries to come. They thrum with high-voltage intelligence and a palpable love of nature as they confront human violence and suffering. Waldrep is a visionary poet."

—Rachel Galvin

"The Earliest Witnesses suggests the dividing line between the mortal and the eternal is not death, but the body, and an insoluble problem troubles this nexus insofar as the body is occupied by thinking—it recognizes the difficulty of simultaneously standing both in and beside the world, but, remarkably, it recognizes also that fully inhabiting this difficulty is the beginning of peace: 'For we too know wheels, & are known of them. / … Alongside some music we had made. Or just after.' This is beautifully intelligent, beautifully achieved poetry."

—Shane McCrae

"I have been an avid reader of G.C. Waldrep through seven collections and nearly twenty years. The Earliest Witnesses puts in stark relief the way his lightning mind, caught between God and the body, finds in poetry the battery to hold and express the voltage. As always, his linguistic palette and image-making are electric. What is new? The poems here are more naked and more fierce; in them I feel the charge of crisis: of faith and of earth, psyche and flesh. 'I have a fever and its name is God,' he writes. I walk with him."

—Dana Levin
Tupelo Press, 9781946482488, 130pp.
Publication Date: January 1, 2021
About the Author
G.C. Waldrep is the author of six previous full-length collections of poetry, most recently feast gently (Tupelo 2018), which won the William Carlos Williams Award from the Poetry Society of America, and the long poem Testament (BOA Editions, 2015). Waldrep's work has appeared in Poetry, Ploughshares, Paris Review, APR, New England Review, New American Writing, Harper's, Tin House, Verse, and many other journals in the USA and abroad, as well as twice in The Best American Poetry and in the second edition of Norton's Postmodern American Poetry. He has received prizes from the Poetry Society of America and the Academy of American Poets as well as the Colorado Prize, the Dorset Prize, the Campbell Corner Prize, two Pushcart Prizes, a Gertrude Stein Award for Innovative American Writing, and a 2007 National Endowment for the Arts Fellowship in Literature. Waldrep lives in Lewisburg, Pa., where he teaches at Bucknell University and edits the journal West Branch.