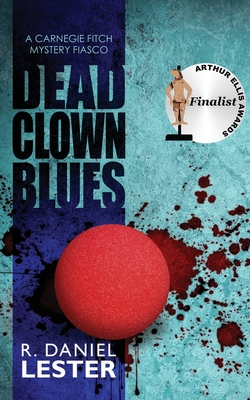 Dead Clown Blues
Paperback

* Individual store prices may vary.
Description
A Finalist for the 2018 Arthur Ellis Award for Best Crime Novella Carnegie Fitch, once-upon-a-time drifter and now half-assed private eye, has a sharp tongue, a cheap suit and dog-bite marks on his fedora. Yes, that's just how he rolls through the downtown streets of Vancouver, BC, Canada, aka Terminal City, circa 1957, a land of neon signs, 24-hour diners and slumming socialites. Fitch gets the case of a lifetime when he gets caught up in the death of a janitor with a checkered past as a circus performer and a stash of ill-gotten gains. And since nothing attracts the moths quite like the glow of a pot of gold at the end of the rainbow, he will cross paths with a series of lowlifes and nut jobs, including a gang of criminal clowns, a femme fatale with beaucoup daddy issues and an off-kilter circus elephant named Mary with a taste for human fear. See, Fitch has always dreamed of the big score, the buried treasure, the duffel bag full of cash. Because that's fat city, the place to be. Easy money. The good life, where the whisky flows like water and you never get a bill. But what if nothing is as it seems and chasing the dream means getting knocked silly not once but twice and ending up in a hospital bed, pissing blood after being repeatedly kidney punched by a psycho clown with no moral compass? And what if that's not the worst that will happen? What if Fitch is forced to dig through his past to sort out who he is and why he is and just what the hell he wants out of this loopy thing called "life" anyway. Well, then Fitch'd have a serious case of the Dead Clown Blues. Praise for DEAD CLOWN BLUES: "An absorbing, wry mystery with a charming, rather indifferent sleuth." -Kirkus Reviews
Shotgun Honey, 9781946502025, 148pp.
Publication Date: September 12, 2017
About the Author
As a keen apprentice in the story trade, R. Daniel Lester has consumed a lot of coffee (a mandatory requirement according to the manual), written himself into and out of countless corners, added many words to blank pages, self-published three books (including the novel, Die, Famous!), and made tens of dollars along the way. His work has also appeared in print and online in such places as Adbusters, Geist, Shotgun Honey, Bareknuckles Pulp, The Flash Fiction Offensive, Broken Pencil, Pulp Literature and The Lascaux Prize Anthology. He currently lives in Toronto, Canada, with his spouse and daughter.