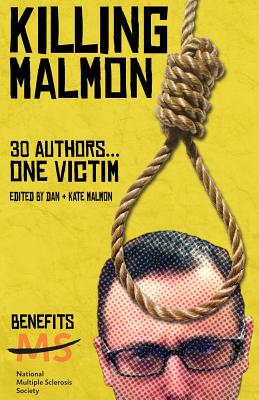 Killing Malmon
Paperback

* Individual store prices may vary.
Description
Never before has killing someone benefitted such a good cause... In 2014, Crimespree Magazine held an internet-based flash fiction contest. The rules were simple: somewhere in the story you had to "Kill Dan Malmon." That was it. The story had to be brief, inventive, and somewhere, Malmon had to die. Now, thanks to Down & Out Books, those original stories, plus a few more, are being collected into one volume with all proceeds going to the MS Society. If you hate MS as much as we do, and if your feelings towards Dan Malmon are rather ambivalent anyway, then this is the volume for you. Featuring stories by Hector Acosta, Eric Beetner, Dana Cameron, Sarah M. Chen, Matthew Clemens, Angel Luis Col n, Hilary Davidson, Cory Funk, Danny Gardner, Paul J. Garth, Rob Hart, Ed Kurtz, S.W. Lauden, Russel D. McLean, Jeff Macfee, Erin Mitchell, Erica Ruth Neubauer, Brad Parks, Thomas Pluck, Bryon Quertermous, Todd Robinson, Alex Segura, Jeff Shelby, Nathan Singer, Josh Stallings, Jay Stringer, R.D. Sullivan, Bryan VanMeter, Holly West and Dave White. Praise for KILLING MALMON: "I've never quite understood why people keep killing off Malmon. But they make a good case. Several cases. Many, many cases-for a good cause Killing Malmon for fun and non-profit " -Lori Rader-Day, Mary Higgins Clark Award-winning author of The Day I Died "You can't spell marvelously grisly and a funky good time without K-I-L-L-I-N-G M-A-L-M-O-N. Do yourself a favor and dive in." -Shaun Harris, author of The Hemingway Thief "Look, I like Dan Malmon, so I feel kinda guilty enjoying the hell out of his many untimely demises. But this collection, which features some of the best crime writers on the planet, is a gonzo pulp confection that hits your system like a sugar high and leaves you smiling the whole way through." -Chris Holm, Anthony Award-winning author of The Killing Kind and Red Right Hand "Your mom is going to hate this." -Kristi Belcamino, author of the Gabriella Giovanni thriller series "Killing Malmon is an incredibly satisfying crime fiction sampler. Read it. I guarantee you'll leave with at least three new writers to check out (plus an inexplicable desire to protect and nurture Dan Malmon)." -Jess Lourey, TEDx presenter and Anthony- and Lefty-nominated author of the Witch Hunt thrillers and the Murder by Month mysteries "Come for the death of Dan Malmon, stay for the super-group of authors letting it all hang out, dropping tasty cut after tasty cut of pure noir." -Matthew FitzSimmons, author of the Gibson Vaughn series "Killing Malmon is like Murder on the Orient Express except (spoilers ) it's not by Agatha Christie, or on a train, or on its way to the Orient. Still, there's something wonderful and sweet watching thirty talented mystery writers line up to shoot, strangle, poison, dismember, and otherwise spell the demise of the one of the genuinely nicest guys in the business. If you're into that kind of thing like I am, read Killing Malmon." -Matthew Iden, author of the Marty Singer mystery series and The Winter Over "Life sure is hard for you." -Judy Malmon, Dan's mom "I love these stories " -Diane Hackbarth, Kate's mom.
Down & Out Books, 9781946502087, 362pp.
Publication Date: October 4, 2017