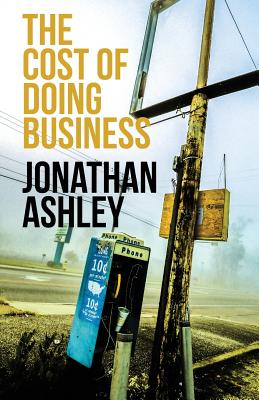 The Cost of Doing Business
Paperback

* Individual store prices may vary.
Description
Jon Catlett, a misanthropic literary obsessive, is facing the loss of the only thing in the world he loves; his used bookstore, a haven for fellow weirdos, outcasts, misunderstood geniuses and malcontents. Jon has several other problems, the least of which are his love affair with a bi-polar femme fatale heiress to a thriving northern steel company or the exponentially growing opiate habit he has developed. When Jon, during a deal gone wrong, accidentally kills a fellow drug addict, getting away with murder turns out to be the least of his worries. The steps he and Paul, the obsessive-compulsive manager of Jon's store, must take to cover up the killing result in the two cornering Louisville's blossoming heroin trade. From West End gangbangers to dirty cops and crusading narcotics detectives, Jon and his unstable partner in crime must dilute their morals and thicken their skin if they are to have any hope of surviving the lucrative but deadly life they've stumbled upon. Praise for THE COST OF DOING BUSINESS: "Poetic, down trodden and nihilistic, Jonathan Ashley treads through parts of the human psyche that others fear for one black tar mind-f**k-ride of a novel." -Frank Bill, author of Crimes in Southern Indiana and Donnybrook "Ashley breaks our hearts, he breaks all the rules and, most importantly, he breaks our expectations of what a simple crime story can be. He shatters it, in fact, leaving readers craving another deadly taste-much like the lost souls in this chilling, amazing story." -Patrick Wensink, author of Broken Piano for President "We live in a capitalistic society, yes, but nobody said doing business is easy or even enjoyable. Jonathan Ashley makes this point quite well in The Cost of Doing Business. Of course when the business is the heroin trade, the stakes are life and death, but is the suspicion, the betrayal, the plotting and scheming, all that different than what goes on in the corporate world? Louisville bookstore owner Jon Catlett leaves his used volumes of Yeats behind to get into the drug trade and make some real money, and the result is blood-filled mayhem. He never loses his sense of literate irony, though, taking us through a fast, unpredictable novel with equal parts darkness and humor. A very confident debut." -Scott Adlerberg, author of Spiders and Flies
Down & Out Books, 9781946502162, 260pp.
Publication Date: January 17, 2018