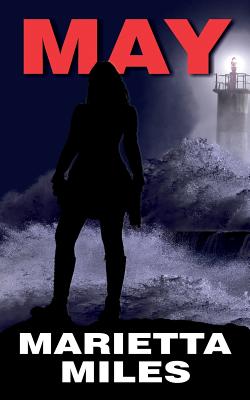 May
Paperback

* Individual store prices may vary.
Description
May, lonely caretaker and small-time weed dealer, has spent years trying to hunker down and hide from her damaged past. As a destructive nor'easter takes aim at her sleepy island home of Folly, May tries to hunker down once more after the island is evacuated. But death is in the air - not just from the storm, but from others on the island driven by darker demons - and May finds that this time, there's nowhere to hide. Praise for MAY: "Every page has a lovely line, something to savor, even as the story uneasily slips under your skin. There's beauty in the violence in this novella about loneliness and the lengths people go to free themselves from its grasp. You read May and imagine Marietta Miles sitting at the edge of the abyss, peering into it and scribbling into her notebook." -E.A. Aymar, author of You're As Good As Dead "Marietta Miles is a unique voice in modern noir, a writer of such dark scenes that only the power of her words can provide the light that releases the reader into a world where hope remains. Showcasing a Southern sensibility that reminds at times of Flannery O'Connor, Miles continually reveals further breadth (and depths) to her characters. A book of dark charms, May adds to the staggeringly beautiful intoxication delivered by last year's Route 12." -Rob Pierce, author of Uncle Dust and With The Right Enemies "May will haunt you long after you close the cover. Its every page is fraught with peril. Its every word oozes with tragedy You know it's coming, but you won't dare look away, lest you miss one of the freshest, most scintillating voices in Southern crime fiction." -Eryk Pruitt, author of Dirtbags and What We Reckon "May is gripping and yet poignant. May Cosby and the people around her struggle against the present and the past, trying to piece together a life that's worth living. Set along the fragile Folly Island of North Carolina as a frightening storm approaches, May looks back upon her choices and does her best to come to terms with them. Extremely atmospheric and at times heart-wrenching, May is a story of choosing to leave the wreckage of the past and search for hope in the future." -Jen Conley, author of Cannibals "Marietta Miles's May is an unfiltered, provocative deep-dive into the bleak life of an extraordinarily complex woman. Utterly engrossing and relentlessly heartbreaking, Miles's sharp, powerful storytelling will have you rooting for May fiercely right up until the very end." -Jennifer Hillier, author of Creep, Freak, and Wonderland
Down & Out Books, 9781946502179, 174pp.
Publication Date: December 25, 2017