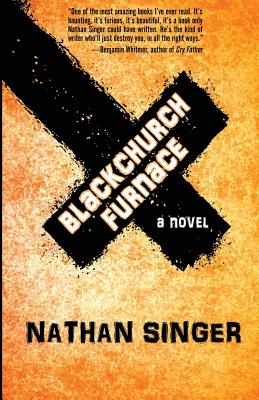 Blackchurch Furnace
Paperback

* Individual store prices may vary.
Description
Blackchurch is not the sort of place where folks are inclined to be up in each other's business, and strange house guests at a neighbor's pad are not likely to be noticed, let alone remarked upon. So on a day in early October, when two beat-up-looking crackers, a pregnant teenage whore, and a small, androgynous Japanese woman in a large-brimmed sombrero, sunglasses, and wrapped in a patchwork down comforter came to call on D'antre Philips with heads full of prophetic visions and tales of the apocalypse already in progress, nary an eye was blinked. When the end times do come to Blackchurch, it'll be a day like any other day. And the next day will be too.
Blackchurch Furnace is a scathing satire of faith, family, and all that we hold dear, where the only thing you can believe in are the voices in your own head...and they are every bit as crazy as you are.
Praise for BLACKCHURCH FURNACE:
"Blackchurch Furnace is one of the most amazing books I've ever read. It reads like an underworld testament, groaning with ghost histories, clanking and burning with all the shuffling grandeur of its subject, Cincinnati. It's haunting, it's furious, it's beautiful, it's a book only Nathan Singer could have written. He's the kind of writer who'll just destroy you, in all the right ways."--Benjamin Whitmer, author of Pike and Cry Father
"Similar to author Victor LaValle (The Ecstatic, Slapboxing with Jesus and Big Machine), Nathan Singer is an urban wordsmith that blisters the pages with a language only he can scribe. Blackchurch Furnace is an apocalyptic head-scratching mystery laced with hip-hop, Louisiana metal, 9-11, Afghanistan and Iraq. Characters scour to LA and back to where the story is rooted amongst the struggling class of Ohio with Gothic saviors, saints and prophets searching to redefine what was once moral and just. This book is loud, comical, witty, and comes with a soprano-shriek that screams 'read me '"--Frank Bill, author of Crimes in Southern Indiana and Donnybrook
"Reading Nathan Singer's Blackchurch Furnace is like coming across a lost book of the Bible, equal parts profound and profane. Singer's work has beauty and brutality in a balance no other writer can match. Blackchurch Furnace is a brilliant story of loss and struggle, pushed by an unrelenting momentum and characters of such power, such precision, that their impact will leave a sacred mark on the devout reader."--Steve Weddle, author of Country Hardball
"Blackchurch Furnace is a relentless, visceral, and black-humored ride through America's alternately pious and depraved id. It turns a keen and tender eye to bars, churches, porn mansions, and boiler rooms. Singer has managed a finger-trap of a story that weaves together realism and apocalypse, heavy metal and children's books, redemption and the lack thereof."--Tyler McMahon, author of How the Mistakes Were Made
Down & Out Books, 9781946502186, 382pp.
Publication Date: January 15, 2018