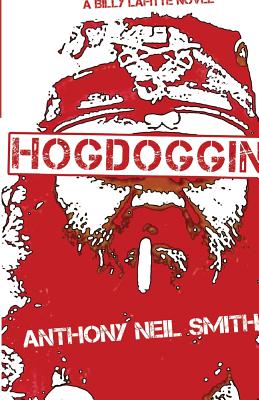 Hogdoggin'
Paperback

* Individual store prices may vary.
Other Editions of This Title:
Paperback (6/1/2009)
Hardcover (6/1/2009)
Description
Former Deputy Billy Lafitte is a no-good, grits-for-brains, despicable and dangerous traitor Special Agent Franklin Rome is sure of it. So sure, in fact, that he's willing to investigate outside departmental bounds. Willing to blackmail and bribe his fellow lawmen into helping him. Willing to ferret Lafitte out of whatever snake-hole he's hidden himself in, and do what the too-lax government wouldn't let him do back in Yellow Medicine county, just months ago... And Rome's plan is working. Squeeze a man's ex-wife, especially an ex-wife as unstable as Ginny Lafitte, and watch her overprotective man appear from thin air to stand by his family. No matter that Rome's had to bend a few rules in order to make it happen; Billy's end will justify Rome's means. Of course, Rome didn't count on Billy riding in to save the day on a turquoise motorcycle with a beard, fifty extra pounds of muscle, and the weight of a man named Steel God at his back. Nor did he think Billy would go and get himself caught up with paint-huffing, knife-wielding rednecks. And Rome certainly never predicted that a broken-hearted, vengeful woman named Colleen would be just as hot for Lafitte's blood as he is... Praise for HOGDOGGIN': "Smith's version of Minnesota is no Lake Wobegon; the inhabitants are refreshingly made up entirely of the deranged, the damaged, and the doomed. If you can picture the intellectual and physical mayhem that might have resulted from a Jim Thompson and Harry Crews collaboration, you'd be on the right track. But Anthony Neil Smith is his own writer-and a very fine one, indeed." -Booklist "The book's brutality is exemplified by the blood sport that provides the title, which matches vicious dogs like Rottweilers against helpless pigs. Fans of darkest noir will be most satisfied." -Publishers Weekly "Anthony Neil Smith has long been one of the best of the up-and-coming hardcore crime writers; Hogdoggin' marks his passage into the very front rank..." -Scott Phillips, author of The Ice Harvest "Sex, drugs and rock and roll-kinky FBI agents, steroid ridden bikers and enough musical terrorism to keep your head busy for some time; Anthony Neil Smith's Hogdoggin' is like a killer song you can't get out of your head." -Craig Johnson, author of the Longmire mystery series.
Down & Out Books, 9781946502223, 328pp.
Publication Date: October 3, 2017