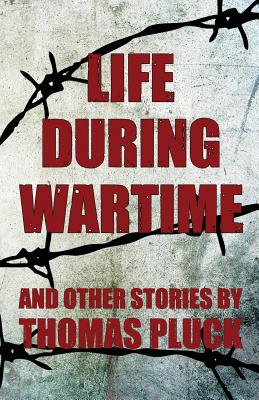 Life During Wartime and Other Stories (Paperback)
Down & Out Books, 9781946502391, 312pp.
Publication Date: January 29, 2018
* Individual store prices may vary.
Description
A blackjack 21 of stories of people caught up in crime, facing bleak horrors, or spun in the whirlpool of human absurdity, this collects the best stories of Thomas Pluck.
Take a ride on the neuter scooter in "The Big Snip", selected as one of the best crime stories of 2016. Follow a mountain man who's not what he seems into a snowbound frontier town where evil has sunk its claws. Dine at the most exclusive restaurant in New York, where "Eat the Rich" takes on a whole new meaning. And meet Denny the Dent, a hulking 350 pounds of muscle who wouldn't harm a fly...but who'll glad crush a bully's skull. And read the Jay Desmarteaux yarn that takes off where
Bad Boy Boogie
ends. Read the stories readers call "hard-hitting bombs" full of "gut punches and belly laughs"...and be ready to get Plucked. Praise for Thomas Pluck: "Thomas Pluck is a crime writer to watch. Steeped in the genre's grand tradition but with heart and bravado all his own, his writing is lean, smart and irresistibly compelling." --Megan Abbott, author of
You Will Know Me
and
Queenpin
"He writes those quick, hard-hitting bombs as well or better than anybody on the scene today. Keep 'em coming." --Wayne Dundee, author of the Joe Hannibal PI series and creator of
Hardboiled Magazine
"If you don't know who Thomas Pluck is, you will soon enough. His short fiction is all over the internet and he combines jabs of clever humor with full-impact gut shots." --Johnny Shaw, author of
Dove Season
and
Big Maria