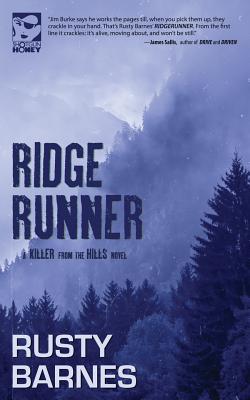 Ridgerunner
Paperback

* Individual store prices may vary.
Description
Investigating a deer-poaching incident that lands him in deep trouble-with a broken ankle and multiple bullet wounds-wildlife conservation officer Matt Rider finds himself at odds with members of the renegade Pittman family, including clan leader Soldier Pittman.

When a large sum of Pittman's drug money comes up missing, Soldier Pittman is convinced Rider stole it. Rider's instincts are to call on his trusted brother Randy and his friend Dean Blackwell to help him out, but none of them imagine the lengths to which Soldier Pittman will go to get his drug money back.

Praise for RIDGERUNNER:

"Rusty Barnes has done it again. Ridgerunner is a well-oiled, perfectly crafted shotgun of a novel, one that delivers just as much heart as it does gunpowder. No one else working today can showcase so much humanity in such dark places. It's a genuine thrill to see what Barnes can do with twenty-six letters and a handful of characters." -Sheldon Lee Compton, author of The Same Terrible Storm and Brown Bottle

"With Ridgerunner, Rusty Barnes has earned a place at the table with hardscrabble-noir poets like Woodrell, Wolven, and-yes-Thompson. This short novel packs a wicked punch that will leave you shaken and wanting more. Drop whatever you're doing and get your hands on it." -Patrick Shawn Bagley, author of Bitter Water Blues

"Rusty Barnes has something special here-the narrative equivalent of a fist to the gut, followed up with a well-placed kick in the teeth. You're going to want to get yourself a snack to go with Ridgerunner, because once you start reading this book you'll forget to eat. It's a non-stop thrill ride from page one as Barnes blends mayhem and heart in equal doses, giving the reader a tour into the souls of men and their vices, exposing the lengths they'll go to protect what's theirs." -CS DeWildt, author of Love You to a Pulp

"A guttural and unrelenting survey of a people and place that is not lawless, but, rather, governed solely by its own backcountry creed. Ridgerunner blurs the boundaries between lawmen and outlaws. Barnes has delivered the stuff of fine fiction." -David Joy, author of Where All Light Tends to Go

"Barnes starts his story with a fast boil and wrenches up the gas on every page, never relenting until the lid pops off and scalds the hell out of you. Ridgerunner is brutal, satisfying, and left me looking forward to his next book." -Samuel W. Gailey, author of Deep Winter

"Jim Burke says he works the pages till, when you pick them up, they crackle in your hand. That's Rusty Barnes' Ridgerunner. From the first line it crackles: it's alive, moving about, and won't be still." -James Sallis
Shotgun Honey, 9781946502476, 186pp.
Publication Date: October 12, 2017
About the Author
Rusty Barnes, poet and crime writer, grew up in rural northern Appalachia. He received his B.A. from Mansfield University of Pennsylvania and his M.F.A. from Emerson College. His fiction, poetry and non-fiction have appeared in over two hundred fifty journals and anthologies. Sunnyoutside Press published two collections of his fiction, Breaking it Down and Mostly Redneck, as well as a novel, Reckoning. His eighth and most recent book is Ridgerunner. Forthcoming books include a sequel to Ridgerunner titled The Last Danger; a linked story collection titled Kraj: The Enforcer; and a novella titled Sunset Approaching. He edits a blogazine of crime stories and occasional reviews called TOUGH.