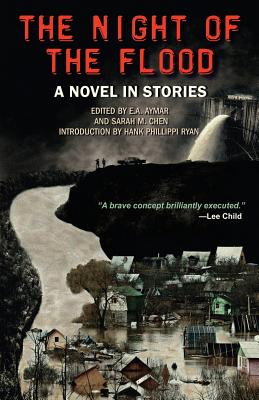 The Night of the Flood
Paperback

* Individual store prices may vary.
Description
"Each of the 14 varied and fitfully amusing stories in this solid anthology takes as its starting point the destruction of a dam and the subsequent flooding of Everton, PA. Aymar and Chen deserve kudos for putting together a distinctive anthology." --Publishers Weekly

It happened the night Maggie Wilbourne was to be put to death, the first woman executed by the state of Pennsylvania in modern times. That was when a group of women passionately protesting Maggie's imprisonment struck. They blew up a local dam, flooding the town of Everton and indirectly inspiring a hellish night of crime and chaos.

Fourteen of today's new and most exciting contemporary crime writers will take you to the fictional town of Everton, with stories from criminals, cops, and civilians that explore the thin line between the rich and the poor, the insider and the outsider, the innocent and the guilty. Whether it's a store owner grimly protecting his property from looters, an opportunistic servant who sees her time to strike, or two misguided youths taking their anger out against any available victim, The Night of the Flood is an intricate and intimate examination of the moment when chaos is released--in both society and the human spirit.

Contributors: E.A. Aymar, Rob Brunet, Sarah M. Chen, Angel Luis Col n, Hilary Davidson, Mark Edwards, Gwen Florio, Elizabeth Heiter, J.J. Hensley, Jennifer Hillier, Shannon Kirk, Jenny Milchman, Alan Orloff, and Wendy Tyson.

Praise for THE NIGHT OF THE FLOOD:

"Plenty of complex characters and hard edges. Take a breath, then hang on and enjoy this entertaining romp." --Steve Berry, New York Times bestselling author

"Bravo to all the authors who contributed to The Night of the Flood, a collection of brilliant short stories about residents of the dysfunctional town of Everton who are thrust into the turbulence of decisions that will forever change who they thought they were. A stormy page-turner that will leave you wanting more." --Sandra Brannan, author of the award-winning Liv Bergen Mystery Series

"A brilliant, multi-leveled concept, Faulknerian in its structure. A novel in stories. Wow. Fourteen new exciting crime writers create a rare three-dimensional mosaic of a doomed town and the night hell flooded through it. Terrifically exciting. Wonderfully inventive." --David Morrell, New York Times bestselling author of Murder As a Fine Art
Down & Out Books, 9781946502513, 304pp.
Publication Date: March 5, 2018