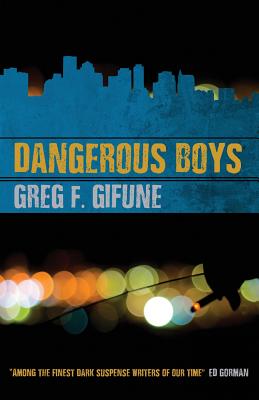 Dangerous Boys
Paperback

* Individual store prices may vary.
Description
"A searing crime novel...Gifune shows his versatility in this coming-of-age tale." --Publishers Weekly

All they had was each other...and nothing to lose...

Summer, 1984. For Richie Lionetti and his gang of friends, their years as teenagers are coming to an end. At a crossroad in their lives as petty criminals and thugs on the mean streets of New Bedford, Massachusetts, they've got one final summer, one last chance to fall in love, brawl for their turf, rob and pillage, and one last chance to make a move and pull a job that could change their lives forever.

As a series of brutal heatwaves hit southeastern Massachusetts, the city boils, and everyone is on edge. In the hopes of finding something better, Richie desperately searches for meaning in all the violence, sex and degradation that is his daily life. But at what price?

Part coming-of-age tale, part dark crime thriller, Dangerous Boys is the story of a group of young punks with nothing left to lose, fighting to find themselves, their futures, and a way out of the madness and darkness before it's too late.

Praise for DANGEROUS BOYS:

"Extremely well written and quite compelling, Dangerous Boys hits all the right marks. It's a novel you'll enjoy reading and regret when the last page is turned. Reminded me a bit of Dennis Lehane, a bit of Martin Scorsese, and a bit of S.E. Hinton. What I'm saying is: Greg F. Gifune has written a crime novel that's character-driven, jarringly violent, and somehow tender." --Grant Jerkins, author of Abnormal Man

"Dangerous Boys may well be the best thing Greg F. Gifune has written, and that's a tall order given his deep and accomplished oeuvre. Stunning, breathtaking, and a bloody nightmare of a ride, this crime novel will reverberate through every inch of your heart and soul, and will cement Greg's already top-shelf reputation with readers of real literature." --Trey R. Barker, author of the Jace Salome novels

"Dangerous Boys is Vision Quest meets The Outsiders with a dash of Less Than Zero thrown in. If none of those references make any sense to you, then you have some reading to do...AFTER you devour Dangerous Boys Whether you want nostalgia, pain, darkness, sex, violence, or struggle, you'll find it here." --Frank Zafiro, author of Blood on Blood

"This is it--a gritty, street-wise, cigarette-behind-the-ear coming-of-age novel that evokes Hinton's The Outsiders, the best of Dennis Lehane, and a dash of Mean Streets. Gifune continues to astound, able to perfectly balance the darkest parts of humanity with its most tender moments. Dangerous Boys is Gifune at his best." --Ronald Malfi, author of Bone White

"Dangerous Boys is a testosterone-fueled, taut moral tale in the tradition of Nelson Algren's lonely street hustlers and Richard Price's The Wanderers. Greg F. Gifune drops you into the backseat of an IROC cruising the hot mean streets with cigarette smoke in your eyes and last night's booze on everyone's breath. He makes your palms sweat and your heart break for these small-time hoods. Fast, brutal, vivid action--and dialogue as sharp as a broken pool stick. These boys are gonna kick your ass " --Steven Sidor, author of Fury From the Tomb
Down & Out Books, 9781946502520, 330pp.
Publication Date: March 5, 2018