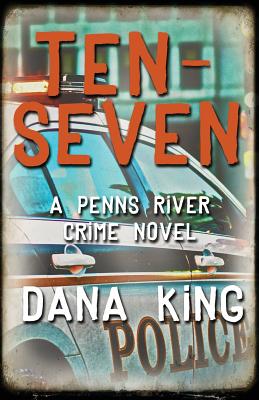 Ten-Seven
Paperback

* Individual store prices may vary.
Description
Vicki Leydig thought she was going to have a few drinks with her friend Mary. She didn't expect Doug Stirnweiss to offer her a ride home, and she sure didn't expect to watch a stranger blow Doug's head off in the parking lot. Penns River police don't have much to go on until Detective Ben "Doc" Dougherty interviews casino employees and learns of drug deals going down in and around the property. Leads show promise and fall apart with depressing frequency until the local prosecutor turns a minor charge into a statement that leads Doc and the rest of the police force to a surprising conclusion, though not before tragedy strikes one of their own.

Meanwhile, Pittsburgh mob boss Mike Mannarino faces increasing pressure from his bosses in New York, so much so he's thinking of reaching out to Chicago for protection. What the rest of his crew has to decide is whether Chicago is the only other organization Mike might make an arrangement with.

It's another week in Penns River, with distractions that range from petty vandalism to a bridge jumper keeping the cops' full attention away from the critical task at hand.

Praise for TEN-SEVEN:

"Consistently one of the best in the business. As good as any I've ever read. Dana King, to quote Don Kirkendall of Men Reading Books, is 'top-shelf entertainment.' Ten-Seven keeps that ball rolling." --Charlie Stella

"Dana King's latest novel Ten-Seven returns his readers to Penns River in a propulsive mystery thriller that showcases his ear for dialogue, penchant for wry humor, and mastery of the police procedural, all while his finger is firmly on the pulse of America's Rust Belt. Ten-Seven is the perfect novel for fans of Elmore Leonard and Tana French and will leave his readers hungrily awaiting the next installment." --Eryk Pruitt, Anthony Award-nominated author of What We Reckon

"Ten-Seven is a prime example of the kind of small-town procedural that tells you as much about the town and its denizens as it does the crime at hand. The kind of solid plotting and characterizations I love in another favorite Pennsylvania crime writer, the great KC Constantine." --Scott Phillips, author of The Ice Harvest and The Walkaway
Down & Out Books, 9781946502650, 276pp.
Publication Date: January 21, 2019