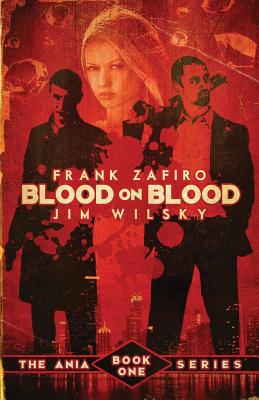 Blood on Blood
Paperback

* Individual store prices may vary.
Description
When half-brothers Mick and Jerzy Sawyer are summoned to their father's prison deathbed, it isn't for a tearful goodbye. The spiteful old man tells the two estranged brothers about an old diamond heist with outstanding loot, and sets them on a path of cooperation and competition to recover the jewels.

Jerzy is the quintessential career criminal, fresh out of a short bit and looking to get back into the action right away. Mick is the failed cop and tainted hero struggling to get by with a clean life that doesn't seem to ever pay off. Both men see this score as their ticket out of Chicago.

Throw in the mysterious, blonde Ania, and Blood on Blood is hard-boiled Hardy Boys meets Cain and Abel. Jerzy and Mick battle each other for all of it--the diamonds, the girl, and survival--and nothing else matters...not even blood.

Praise for BLOOD ON BLOOD:

"So hard-boiled I'm still sweating from the steam A hell of a good story told by a pair of aces, guaranteed to jump-start your heart from the very first word. Add this to your reading list for sure " --Shane Gericke, bestselling author of Torn Apart

"Veteran Frank Zafiro and debut Jim Wilsky have teamed up to deliver a stunning punch to the head. Tightly plotted and perfectly executed, Blood on Blood grabs your attention like a shot of Belvedere and a beautiful blonde. If you like your fiction boiled hard, don't pass this one up." --Al Leverone, author of The Lonely Mile

"Blood on Blood is a straight shot of raw, fiery, undiluted noir. Dangerous dudes and even more dangerous dames conspire, connive, and collide with deadly results in a bare-bones, no-nonsense thriller that takes no prisoners. A definite must-read for those who take their crime fiction strong and dark." --JD Rhoades, author of Breaking Cover, Lawyers Guns & Money, and the Jack Keller series

"Dark and nasty good. I haven't had this much fun reading about two brothers since Cain and Abel." --Brad Parks, Shamus Award and Nero Award-winning author of The Girl Next Door

"Blood on Blood is an intense and truly addictive thriller that captures you immediately and holds you bound until the last page. A fast paced, absorbing crime novel, with characters who still linger darkly on the edge of my thoughts." --Julia Madeleine, author of The Truth About Scarlet Rose

"Written in gritty, hard-hitting prose with wit and suspenseful twists and turns aplenty, Blood on Blood is a down and dirty 'must read' that harkens to the classics of hardboiled crime fiction and noir." --Debbi Mack, author of Identity Crisis, Least Wanted, and Riptide

"Just when you thought you'd seen and re-seen every possible crime plot, along comes Blood on Blood--a tale of two estranged brothers, one an ex-cop and one an ex-con, forced to work together to find a stash of diamonds stolen long ago by their late father. Zafiro and Wilsky have put together a fast-moving, authentic thriller, complete with witty dialogue and characters who seem real enough to touch. A beautifully written book, with stunning plot twists throughout. You'll love it " --John M. Floyd, award-winning author of Midnight and Clockwork
Down & Out Books, 9781946502711, 248pp.
Publication Date: April 30, 2018
or
Not Currently Available for Direct Purchase