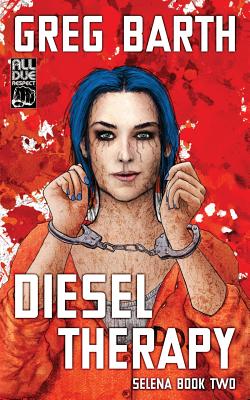 Diesel Therapy
Paperback

* Individual store prices may vary.
Description
While cooling her heels in Federal Prison, Selena finds herself an unwilling pawn in a deadly game played by powers beyond her understanding. Her enemies aren't finished hurting her. Selena is completely under their control and subjected to the most cruel form of punishment known to the Federal Prison System. But when presented with an unexpected opportunity to right old wrongs, Selena chooses her own way-and to hell with the powers that be. As her course twists and turns, Selena takes on the unlikeliest ally of all. She enlists hell's own soldier as she commands her reckoning against her true enemies. Diesel Therapy is the second book in the Selena series. Praise for the SELENA SERIES: "Greg Barth cooked up something mean and served it up and I hope none of you choke on it because it's mighty tasty." -Eryk Pruitt, author of Hashtag and Dirtbags "It's like the wildest of the men's adventure novels of the '70s, updated for the new millennium. Definitely not for the faint of heart." -Bill Crider "Reminiscent of Larry Brown's Fay, but less innocent and more violent, Selena combines fine writing and an indelible character to help fill the gap of female protagonists in the world of noir." -Vicki Hendricks, author of Miami Purity "Greg Barth writes with a knife-like edge...A fast, crazy read." -Marietta Miles, author of Route 12 "Greg Barth writes a hell of a book. He steps on the gas and doesn't let up for a second." -Michael Finamore "Mister Barth writes well-hard charging and fast paced." -Tony Knighton, author of Three Hours Past Midnight "This book had me turning pages and gritting my teeth...a total punch to the gut, and it hurts so good." -S. W. Lauden, author of Crosswise "Selena is a visceral pulp thriller that had me gripped from the outset." -Tom Leins, of Dirty Books Blog "This series is a literary legend in the making" -Will Viharo, author of Love Stories Are Too Violent For Me "Selena is a tour de force of unapologetic sex and violence, not for the faint of heart but definitely for hardcore fans of fast paced, unrelenting pulp-noir in the fashion of nobody except Greg Barth." -Shane D. Keene.
All Due Respect, 9781946502803, 296pp.
Publication Date: January 14, 2018