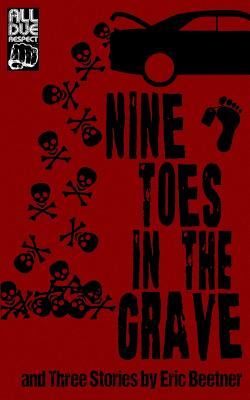 Nine Toes in the Grave
Paperback

* Individual store prices may vary.
Description
Reese has tried to live a good, honest life. But life has other plans. From the boss's wife who wants him to do something terrible to the sleazebags trying to set him up, when things go downhill, they go fast and Reese finds himself fighting for his life as the hard luck piles on. His only way out might be to throw away the moral code he's been living by, face trouble head on and prove you can only push a man so far before he pushes back-hard. Praise for NINE TOES IN THE GRAVE: "If dead bodies, a dystopian view of the world and whip-crack dialogue are your thing, then this tale may just be for you." -Crime Fiction Lover "Beetner is an old school talent, a crime writer's crime writer like Gil Brewer (although, in my humble opinion, he's better than Brewer), who writes stuff that is fast and funny and dark all at once." -Jake Hinkson, author of No Tomorrow and Hell on Church Street "Nine Toes in the Grave reads like a runaway train going downhill, relentlessly gathering speed as one bad decision builds upon the last. One part noir, one part humor, one part action, one part philosophy, viciously shaken, served straight up. Where Reese ultimately ends up may surprise you, however. Beetner unquestionably knows how to write an adrenaline-fueled adventure, and he's never been one to be beholden to tradition when he does. With Nine Toes in the Grave, Beetner shows that coming full circle doesn't necessarily get you right back where you started." -Reviews by Elizabeth A White "A stripped-down, old-school blast of noir." -Rob W. Hart, author of New Yorked "This book does everything right and further demonstrates that Beetner has a keen eye on how to plot a book that never allows the reader a chance to catch their breath. It is criminal how entertaining Beetner makes this book. Why criminal? Because murder, double crossings, and a woman with no heart shouldn't be this fun to read about." -Out Of The Gutter.
All Due Respect, 9781946502841, 180pp.
Publication Date: January 2, 2018