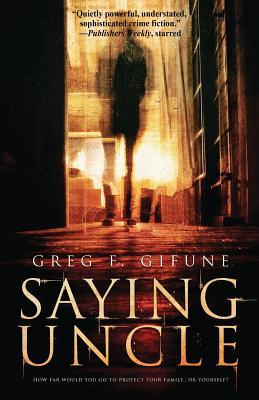 Saying Uncle
Paperback

* Individual store prices may vary.
Description
Andy DeMarco and his little sister Angela worshiped their Uncle Paulie. To them, he was a god, an enigmatic savior, the man who took the place of their absent father, who protected them and their mother, and who taught them about the true nature of life and family. But one horrible summer day something unspeakable happened to little Angela, and everyone's world changed forever.

Now, twenty years later, in the middle of a snowstorm, Andy has returned home to bury his uncle, a man with a shady past that ended with a caper gone wrong and a bullet in the back of his head. Only now can Andy begin to understand who his uncle truly was, and in doing so, finally begin to also understand who he is, and who he may still one day become.

Praise for SAYING UNCLE:

"This quietly powerful short novel should bring much deserved attention to Gifune, who succeeds in imbuing what could have been a clich d and formulaic noir premise with haunting emotional depth. Fans of understated, sophisticated crime fiction are in for a treat." --Publishers Weekly, Starred Review

"Saying Uncle is steeped in some serious atmosphere. It's the kind of book that you'll want to rip through and yet also savor. You'll reread passages for the pure poetry of sound as well as for the dazzling imagery. It's that lush and affecting." --Tom Piccirilli, author of Shadow Season

"Saying Uncle is a tightly-crafted novel that is both an action story and an emotional one. Gifune's words flow like mountain streams, and like those streams they bite hard when you step into their icy waters. It is a coming-of-age story filled with all the right components: strong characters, dark secrets, dangerous situations, and deep emotions. In short, it's the kind of book other writers will wish they had written, and readers will be recommending to their friends." --Dark Scribe Magazine

"Devastating, in a good way, I feel like I experienced Gifune's novel Saying Uncle firsthand. Wonderfully crafted on so many levels: description, characterization, atmosphere, thematically. A must read." --Lisa von Biela, author of The Genesis Code

"This--like most of Gifune's vast body of work--is a novel first and a genre entry only secondarily. It's a dark psychological study, engrossing and disturbing, profoundly reminiscent of the great "noir" classics of a generation ago...while remaining on the cutting edge of contemporary crime fiction. More people need to discover this excellent book. It's hard to imagine a reader who wouldn't be struck by its brilliance." --Robert Dunbar, author of The Pines

"Brilliant, grim, and absolutely devastating. An amazing work from quite possibly the greatest dark fiction author of our time." --Sandy DeLuca, author of Descent
Down & Out Books, 9781946502902, 184pp.
Publication Date: June 18, 2018