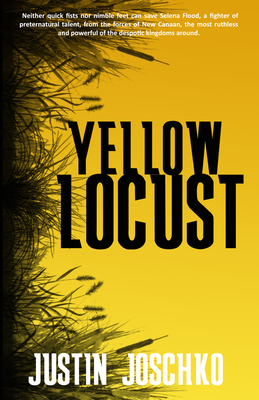 Yellow Locust
Paperback

* Individual store prices may vary.
Other Editions of This Title:
Digital Audiobook (5/7/2018)
Compact Disc (5/8/2018)
MP3 CD (5/8/2018)
Compact Disc (5/8/2018)
Description
Selena Flood is a fighter with preternatural talent. But not even her quick fists and nimble feet could save her parents from the forces of New Canaan, the most ruthless and powerful of the despotic kingdoms populating America-That-Was. Forced to flee the tyrannical state with her younger brother Simon in tow, Selena is now the last chance for peace in a continent on the verge of complete destruction. In her pocket is a data stick, the contents of which cost her parents their lives. Selena must now ensure it reaches the Republic of California—a lone beacon of liberty shining across a vast and barren wasteland—before it's too late. Between New Canaan and California stretch the Middle Wastes: thousands of desolate miles home to murderers, thieves, and a virulent strain of grass called yellow locust that has made growing food all but impossible. So, when Selena and Simon stagger into Fallowfield, an oasis of prosperity amidst the poisoned plains, everything seems too good to be true—including the warm welcome they receive from the town's leader, a peculiar man known only as The Mayor. As Selena delves deeper into the sinister secrets of this seemingly harmless refuge, she soon learns there is a much darker side to Fallowfield and the man who runs it. Before long, she must call upon the skills she honed in the fighting pits of New Canaan to ensure not only her own survival, but that of her brother, in whom the Mayor has taken far too keen an interest. And she'd better act fast, for an all-out war inches ever closer, and New Canaan is never as far away as it seems.
Praise For Yellow Locust…
"In a dystopian future North America, Selena, a young white woman who is an adept street fighter, is sent across the country on a critical mission to save the world with her younger brother in tow. Born into the elite, Selena's parents—as part of their underground fight against a tyrannical regime—have gained access to insider information about yellow locust, an extremely toxic weed infesting the country. This weapon of biological warfare has choked out crops and fouled the water supply. Selena's mission is to carry information about plans for a new, terrifying weapon west across the continent on a data stick to the one governing body, the Republic of California, that could possibly combat this evil. The plot may have a familiar ring and feel not-so-original, but fans of female brawlers will find ample thrills in the gritty recounting of numerous fights: Selena is a tough scrapper. She also meets serape-draped knife fighter Marcus Ramirez from Juarez, raising the possibility of a romance. Cursing abounds, but the occasionally challenging vocabulary doesn't always sit comfortably with the depiction of prairie wastelands. Secondary characters from lands akin to Mexico and Japan add diversity to the cast. The complex plot and vivid sense of place are strengths; will appeal to those who like kick-ass heroines. (Science fiction. 14-18)" —Kirkus Reviews
Month9Books, LLC, 9781946700636, 305pp.
Publication Date: May 8, 2018
About the Author
Justin Joschko is an author from Niagara Falls, Ontario. His writing has appeared in newspapers and literary journals across Canada. Yellow Locust is his first novel. He currently lives in Ottawa with his wife and two children.
or
Not Currently Available for Direct Purchase