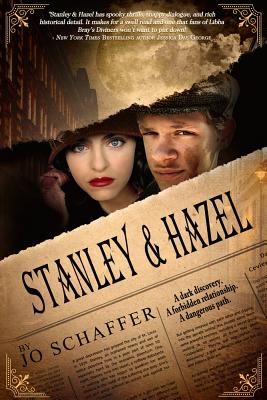 Stanley & Hazel
Paperback

* Individual store prices may vary.
Other Editions of This Title:
Paperback (2/26/2019)
Description
A great depression grips the city of St. Louis in 1934. Stanley, an orphaned newsie, lives in a poor part of town hit especially hard by the economic downturn. One night, Stanley runs into Hazel, a restless debutante-in-waiting who has begun to question her posh lifestyle in the midst of the suffering she sees. She's out and about without an escort and against her father's wishes. When they discover the body of a girl with her head bashed in by a baseball bat, the very different and separate realities of the two teens inform their decision. Together they will figure out what happened to her and bring those responsible to justice. But getting involved with each other and digging into the secrets behind this murder earns them some powerful enemies, including a secret group seeking to rid society of all they deem undesirable. They've put into motion "The Winnowing," a plan seeking to take over the city and enforce their will. As Stanley and Hazel's forbidden feelings for one another grow, their investigation turns deadly. Now, it is up to Stanley and his gang of street kids to stop Hazel from becoming the next victim.
Praise For Stanley & Hazel…
"Forgotten has spooky thrills, snappy dialogue, and rich historical detail. It makes for a swell read and one that fans of Libba Bray's Diviners won't want to put down!"  —Jessica Day George, author, Tuesdays at the Castle

 "Stanley and Hazel is an ingenious blend of history, magic, and spirituality that sheds just as much light on our world today as it does on our nation's troubled past. Good and evil, love and greed, do battle in a story that has as much heart as it does fast-paced action."  —Scott Bergstrom, author, The Cruelty

"In the midst of the Great Depression in St. Louis, two teens from very different socioeconomic backgrounds meet by happenstance. Hazel Malloy is a debutant, a "swell." She lives on Lindell Street where the Great Depression has hardly had an effect. Hazel begins to question her grandiose lifestyle as she becomes more aware of those struggling to make ends meet. Stanley is an Irish-Catholic newsie who lives in the poor neighborhood of Dogtown. He is leader of the Knights, a gang that "robs" garbage cans on Lindell Street to feed the poor. The night the two teens meet, they stumble across the body of a murder victim. At the crime scene, they find a baseball bat and a sequence of numbers on the victim's arm. Something doesn't add up and the police seem to be covering up pieces of evidence. Hazel and Stanley decide it is up to them to solve the murder while uncovering an even bigger scandal involving the city's wealthy elite. This historical novel is a well-crafted murder mystery with strong characters and the author's uses 1920s dialogue like "bananas," "his goose was cooked," and "dollface" to take readers back in time. The story line is slightly slow paced but it still entices readers to solve the mystery alongside the main characters. VERDICT A secondary purchase recommended for larger collections." —Melissa Lambert, Trenton Public Schools, MI, School Library Journal
 
Month9Books, LLC, 9781946700650, 280pp.
Publication Date: May 15, 2018
About the Author
Jo Schaffer was born and raised in the California Bay Area in a huge, creative family. She is a YA novelist, speaker and a Taekwondo black belt. She's a founding member of the nonprofit organization that created Teen Author Boot Camp, one of the nation's biggest conferences for teens where bestselling authors present writing workshops to nearly a thousand attendees. Jo loves being involved in anything that promotes literacy and family. She is passionate about community, travel, books, music, healthy eating, classic films and martial arts. But her favorite thing is being mom to three strapping sons and a neurotic cat named Hero. They live together in the beautiful mountains of Utah. www.joschaffer.com
or
Not Currently Available for Direct Purchase