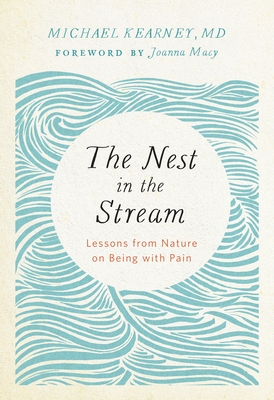 The Nest in the Stream
Lessons from Nature on Being with Pain
Paperback

* Individual store prices may vary.
Description
A concise and inspirational book for anyone dealing with pain by a long time palliative care doctor who is greatly inspired by Native American wisdom and the natural world. This book is a celebration of impermanence and what it means to be awake, alive, and connected to the world.

The Nest in the Stream is an encouraging and inspiring book for the times we live in. Michael Kearney, a physician whose day job is alleviating the pain and suffering of others, shows that how we live with our pain matters hugely, as it affects our quality of living and our capacity to find healing for ourselves, for others, and for our world. Drawing on engaged Buddhism, the indigenous wisdom of Native American and Celtic spirituality, and the powerful teachings he gained by observing nature, Kearney presents a new model for resilience and self-care.

Traditional models of self-care emphasize the importance of professional boundaries to protect us from stress, and time out to rest and recover. The Nest in the Stream offers a way of being with pain that is infused with mindfulness, openness, compassion, and deep nature connection that encourages us to act for the freedom and welfare of all. It will appeal to those whose everyday occupation involves dealing with pain, such as healthcare workers, environmental activists, or those working on the front lines of trauma, but it will also be of interest to everyone who longs to live in our wounded world with an open heart.
Praise For The Nest in the Stream: Lessons from Nature on Being with Pain…
"In this dear book, Michael yet again takes us deeper, closer. He nudges us to see that to understand someone is to care for them. Yes, love them. This book is most directly about the cautions and craft of caregiving. And it is about receiving too, as though by necessity these come together. This is the sweet reciprocal loop that Michael has been pointing out to me for many years now and I'm so glad he's offered us more stories and intimacies to reify this subtly potent point. For all its quietness, this book is full of brave explorations just beyond the line of familiarity. And since he dares to look and see––we can too." ––B.J. Miller MD, Zen Hospice Project, presenter of 2015 TED talk, What Really Matters at The End of Life

"Dr. Michael Kearney has shared with us a profound contemplation, heartfelt and moving, of the healing process in life and at death. Weaving Buddhist and other traditions we accompany him on the journey from letting go to moving on with meaning and grace." ––David Richo, PhD, MFT, author of The Power of Grace
Parallax Press, 9781946764003, 176pp.
Publication Date: February 27, 2018
About the Author
Michael Kearney is a physician specializing in Hospice and Palliative Medicine, with over 35 years experience. He lived in Ireland, England, France, and Canada before moving to the United States in 2001. He currently lives in Santa Barbara, California, where he is a founding partner of Palliative Care Consultants of Santa Barbara. Michael Kearney is married to psychologist, meditation teacher, and author Radhule Weininger, PhD. They teach and write together and share six adult children between them.
or
Not Currently Available for Direct Purchase