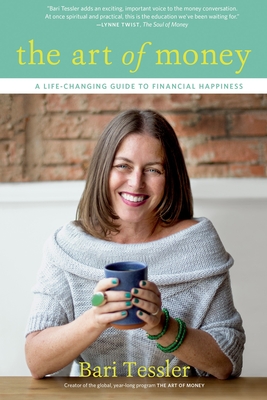 The Art of Money
Paperback

* Individual store prices may vary.
Other Editions of This Title:
Digital Audiobook (8/17/2020)
Hardcover (6/14/2016)
Description
Learn everything you need to know about money management with this approachable guide to tackling financial fears and challenges like a pro
 
Is one of the most challenging relationships in your life the one you have with your money? Do you talk about everything, except finances? Do you make shopping decisions based on your emotions, rather than your budget or big-picture goals? Bari Tessler is here to help!

This is the book your money–savvy best friend, therapist, and accountant would write if they could. It's the book about money for people who don't even want to think about money, until the arrival of that inevitable day when we all realize we must come to terms with this thing called money.

Everyone has pain and challenges, strengths and dreams about money, and many of us mix profound shame into that relationship. In The Art of Money, Bari Tessler offers an integrative approach that creates the real possibility of "money healing," using our relationship with money as a gateway to self–awareness and a training ground for compassion, confidence, and self–worth.

Tessler's gentle techniques weave together emotional depth, big picture visioning, and refreshingly accessible, nitty–gritty money practices that will help anyone transform their relationship with money and, in so doing, transform their life. As Bari writes, "When we dare to speak the truth about money, amazing healing begins."
Parallax Press, 9781946764102, 296pp.
Publication Date: March 13, 2018
About the Author
For over 15 years Bari Tessler has guided individuals, couples, and creative entrepreneurs the world over into new, refreshingly honest relationships with money. She is a financial therapist, mentor coach, and the creator of The Art of Money, a year–long money school for individuals, couples, and creative entrepreneurs. Bari earned a masters degree in somatic psychology from Naropa University and worked in body–centered therapy for over a decade before unexpectedly falling in love with bookkeeping systems and money work.

Her unique methodology integrates these two worlds within a deeply healing context, and it celebrates the multi–faceted, transformative power of working directly with our money relationship. Bari's integrative approach to deep money work weaves together emotional healing and real–world practices within the context of each individual's unique life story. She honors money as a gateway to self–awareness, a path of mindfulness, a bridge between our inner and outer worlds, and a training ground for compassion, confidence, and self–worth. Her approach is gentle, un–shaming, and playful. Bari and her family live in Boulder, Colorado.