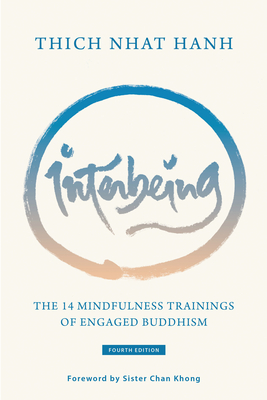 Interbeing, 4th Edition (Paperback)
The 14 Mindfulness Trainings of Engaged Buddhism
Parallax Press, 9781946764201, 216pp.
Publication Date: May 5, 2020
* Individual store prices may vary.
Description
If we want societal change to last, we must collectively transform. The 4th Edition of Interbeing is a blueprint for long-term global change, containing Zen Master Thich Nhat Hanh's fourteen Buddhist guidelines for living consciously and ethically in the modern world. Originally formulated under the fiery pressures of the Vietnam War, Interbeing is a call to collective awakening and a guidebook for getting there. The Fourteen Mindfulness Trainings are a radical expression of Buddhist ethics and morality that offer essential insights for existing mindfully, and creating change that lasts.⠀
About the Author
Thich Nhat Hanh is one of the most revered Zen teachers in the world today. His best-selling books include Be Free Where You Are and No Mud, No Lotus. He is the founder of the Plum Village Community of Engaged Buddhism in southwest France, the largest Buddhist monastery in Europe. Thich Nhat Hanh has been teaching the art of mindful living for more than 70 years. He lives in Hue, Vietnam.