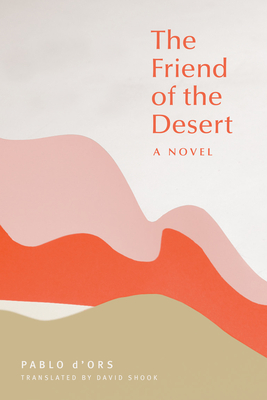 The Friend of the Desert (Paperback)
A Novel
Parallax Press, 9781946764492, 136pp.
Publication Date: October 29, 2019
* Individual store prices may vary.
Description
Existential and curiously hypnotic, Pablo d'Ors evokes the sharp stylized prose of Bolaño, Bernhard, and DeLillo in this strange tale of one man's repeated forays into the desert, and the ultimate silence it contains.

"Thanks to the back cover of a book I knew that there lived in Brno a man who had dedicated a good portion of his life to traveling through many of the world's deserts." So begins Pavel's story, as a series of mysterious circumstances lead him to change the course of his life. On his repeated trips to the Sahara, first as part of an enigmatic organization called Friends of the Desert and later on his own, Pavel explores the drifting sands, and, ultimately, something approaching infinity. Nothing is as it seems. As the unknowns increase, each encounter presents a new mirror for Pavel's own expanding consciousness.

Innumerable artists, thinkers, and mystics have paid their respects to the void. With refinement and care, Friend of the Desert inserts itself to that tradition. In the wake of Hesse's famous Siddhartha, Bolaño's By Night in Chile, and Don DeLillo's The Names, Pablo d'Ors approaches the depths and casually settles in. Friend of the Desert is a rare gift for seekers of the absolute.
About the Author
Pablo d'Ors is a Spanish priest and writer. He was born in Madrid in 1963 and educated in New York, Vienna, Prague, and Rome. He was ordained in 1991 and he received a doctorate in theology in 1996. In 2014, he founded the Amigos del Desierto foundation with the aim of promoting the practice of meditation. In the same year, Pope Francis made him a consultant of the Pontifical Council for Culture. d'Ors debuted as a writer in 2000 with El estreno, a critically acclaimed collection of short stories. His essay Biografía del silencio was a publishing phenomenon in Spain, selling 130,000 copies in just a few years, and was published in English in 2018. Pablo d'Ors has gone on to publish almost a dozen fiction and nonfiction titles, which have been translated into French, German, Italian, Portuguese, and other languages. This is his first English fiction translation.
Praise For The Friend of the Desert: A Novel…
"A sublime performance. At the outset The Friend of the Desert occupies the beguiling territory of Robert Walser, Jane Bowles, or Georges Perec, but soon develops an allegorical intensity all its own; as it reaches its remarkable climax, each gesture seems to stand absolutely for itself, and also for the reader's unnameable desires." —Jonathan Lethem, author of Fortress of Solitude and Motherless Brooklyn