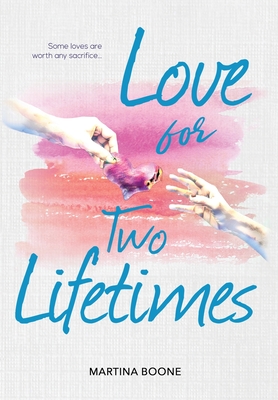 Love for Two Lifetimes
Hardcover

* Individual store prices may vary.
Other Editions of This Title:
Paperback (9/25/2018)
Description
Two generations, two great loves, one devastating lie . . . A modern Pride and Prejudice story.

When Izzy loses her mother in a car accident, her world shatters. Their relationship has always been so close that Izzy can't imagine life without her. Nor can she begin to understand when she finds a hidden box of love letters that her mother wrote but never sent. The idea of her mother hiding such intense feelings for more than twenty years makes Izzy question everything she thought she knew--including the identity of her father.
Following a trail of clues overseas, Izzy steps into a world of glamour and English royalty, one which years ago forced her mother to choose between her obligation to her musical gift and her lover's obligations to his family, title, and estate. It's a world of secrets and masquerades, of heartache and betrayal. And in the midst of this world, Izzy finds a young man who feels as broken as she does herself. The two are drawn to each other--only to discover that who their parents are may present an insurmountable obstacle between them.
Thrown together on a journey of discovery that spans two lifetimes and takes them from a grand estate in the Cotswolds to a hospital bedside in India and ultimately to the Taj Mahal, Izzy and Malcolm try desperately not to fall in love. But some things are impossible. . .
And some loves are worth any sacrifice...
Uplifting, funny, tragic, and unforgettably romantic, Love for Two Lifetimes is a tale of two generations of romance, a lifetime of friendship, a history of good intentions, and one last, heartbreaking and hopeful choice revealed in prose, texts, and love letters. If you enjoy the fairy tale royal weddings or the intense emotion of any story by John Greene or Nicholas Sparks, Love for Two Lifetimes will have you turning pages late into the night.

"Heartwarming, lyrical, soulful, and with just the right amount of humor: this book sparkles with authentic, layered characters and beautiful, thoughtful prose." -- Jodi Meadows, NYT bestselling co-author of My Lady Jane and My Plain Jane

★★★★★ PRAISE FOR COMPULSION ★★★★★
"So swoon-worthy that it's ridiculous." RT Book Reviews, RT Editors Best Books of the Year

"Darkly romantic and steeped in Southern Gothic charm, you ll be compelled to get lost in the Heirs of Watson Island series." -- #1 New York Times bestselling author Jennifer L. Armentrout

"Charming and steamy on the surface, with cold-blooded secrets buried down deep." -- Kendare Blake, New York Times bestselling author

"Beautifully written, with vivid characters, a generations-old feud, and romance that leaps off the page. Not to be missed." -- Megan Shepherd, New York Times bestselling author

★★★★★ PRAISE FOR LAKE OF DESTINY ★★★★★

"Delightful, charming, and heartwarming " -- New York Times bestselling author Wendy Higgins

"I loved this It reminds me of a Nora Roberts series, The Gallaghers of Ardmore . . . but a Scottish version with men in kilts " -- Two Chicks on Books

"Outlander-Lite Meets Gilmore Girls in Scotland. Sucked me in from the start and didn't let go until I'd laughed, shed a few tears and worked up an appetite. Fast. Fun. Romantic. Read it " -- Jenuine Cupcakes
Mayfair Publishing, 9781946773197, 354pp.
Publication Date: September 25, 2018